Press release
Regulator asks those with diabetes to store home use blood glucose test strips correctly
Storing home use GlucoMen LX Sensor test strips incorrectly, especially in high humidity, can lead to falsely high readings.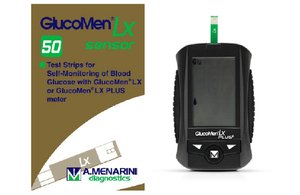 Anyone using the GlucoMen LX Sensor test strips to monitor their blood glucose levels must ensure they immediately close the vials properly after using them especially if they store their strips in a humid environment. Not doing this could expose the test strips distributed by Menarini Diagnostics UK to high humidity, which could lead to a reading that is higher than it should be.
People are advised to follow these 3 steps:
Close the vial securely after using the strips
Store the test strips in their original vial
Write the discard date on the vial label – this is 9 months after you first open the vial
John Wilkinson, MHRA's Director of Medical Devices said:
It is vital that people check that their vials are closed properly according to the instructions for use.

Leaving strips exposed in high humidity may result in falsely high readings, which could lead to them taking an incorrect dose of medication.

We continue to encourage people to report any issues involving medical devices to the MHRA via our Yellow Card Scheme.
Pav Kalsi, Senior Clinical Advisor at Diabetes UK, said:
When using any diabetes medication or equipment it is important to always follow the manufacturer's instructions carefully, including details of how to store them correctly. This is necessary in order to achieve reliable results.
Users should contact their healthcare professional if the result is outside their normal range.
Background
See the Medical Device Alert for more information.
Report any problems with medical devices via the Yellow Card Scheme.
Contact Menarini Diagnostics UK for further information on the product by telephone: 0118 944 4100.
MHRA is responsible for regulating all medicines and medical devices in the UK by ensuring they work and are acceptably safe. All our work is underpinned by robust and fact-based judgments to ensure that the benefits justify any risks. MHRA is a centre of the Medicines and Healthcare Products Regulatory Agency which also includes the National Institute for Biological Standards and Control (NIBSC) and the Clinical Practice Research Datalink (CPRD). The MHRA is an executive agency of the Department of Health.
Media enquiries
News centre
MHRA
10 South Colonnade
London
E14 4PU
Email newscentre@mhra.gov.uk
During office hours: 020 3080 7651 (08:30 - 17:00)
Out of office hours: 07770 446 189 (17:00 - 08:30)
Office hours are Monday to Friday, 8:30am to 5pm. For real-time updates including the latest press releases and news statements, see our Twitter channel at https://www.twitter.com/mhrapress
Published 21 December 2015