News story
Regular and Reserve soldiers train together in Cyprus
Soldiers from The Royal Welsh Regiment's Regular and Reserve battalions have been in Cyprus on a major 2-week training exercise.
During their visit, some soldiers took time to lay wreaths at the graves of those lost in an almost forgotten colonial conflict.
Exercise Lion Star involved 120 troops from The Royal Welsh's Regular 1st Battalion (1 R WELSH) and the reservist 3rd Battalion (3 R WELSH) split into 3 platoons. The soldiers had to negotiate and deal with enemy fire while manoeuvring over 2 kilometres of undulating hillside near the Episkopi coast.
A few injuries
Lieutenant Colonel Rob Manuel, Commanding Officer 3 R Welsh, said the 2-week tour was an illustration of future exercises when Regular and Reserve troops become more closely integrated:
This has been a hugely successful overseas exercise in testing climatic conditions which has stretched the soldiers and officers," he said.

They have had to use all their basic skills in the field to make the most of the build-up to the final battle attack, especially when faced with vastly changeable weather which has gone from temperatures in the mid-30 degrees to heavy rain and forceful winds.

I have seen a distinct progression in the level of our training which will be built upon later in the autumn with our live-firing exercise in Sennybridge. Our time in Brecon will further enhance this training and sharpen the soldiers' skills.

The smooth integration of the Regular and Reserve soldiers has been of particular note. We had one platoon from 1 R Welsh joining a company of Reservists. There has been a flow, both ways, of knowledge and the collective experience has been to benefit of both.

We had a few injuries in the testing conditions and over the difficult terrain which accounted for a small number of soldiers being treated for damaged ankles, but nothing serious.
Fusilier Vivian Uphill KIA
Once the final battle attack had been completed, Lieutenant Colonel Manuel and Regimental Sergeant Major Vic Hughes travelled up to Nicosia to visit Wayne's Keep – the British military cemetery.
Wayne's Keep is situated just to the north of the old Nicosia International Airport which, since 1974 and the Turkish military action, has been a United Nations Protected Area in the buffer zone that divides the island. Visitors need UN permission and have to be escorted.
The cemetery not only contains the graves of casualties of the Second World War, but also the graves of some of those who died during the EOKA campaign of the 1950s, and Service personnel and their dependents who died while serving with the British garrison. There are nearly 800 graves in the cemetery
One such soldier buried there is Fusilier Vivian Uphill, aged 20, who was killed in an ambush in 1958 during the Cyprus Emergency (1955-59) when Greek Cypriot fighters from EOKA (which is a Greek acronym translated as the National Organisation of Cypriot Struggle) launched attacks on the British Army and military bases and targets in a bid to force it from the Mediterranean island.
Fusilier Uphill was from Flintshire and served in the Royal Welch Fusiliers, which preceded The Royal Welsh.
Sergeant Major Hughes, aged 44, from Penmaenmawr in North Wales, has a personal link to Fusilier Uphill. He said:
I have a family connection as my father (also named Vic) served with and knew Fusilier Uphill.

He was in the firing party at his funeral, and I feel there is a duty to lay a wreath at the grave of a North Wales soldier killed in action.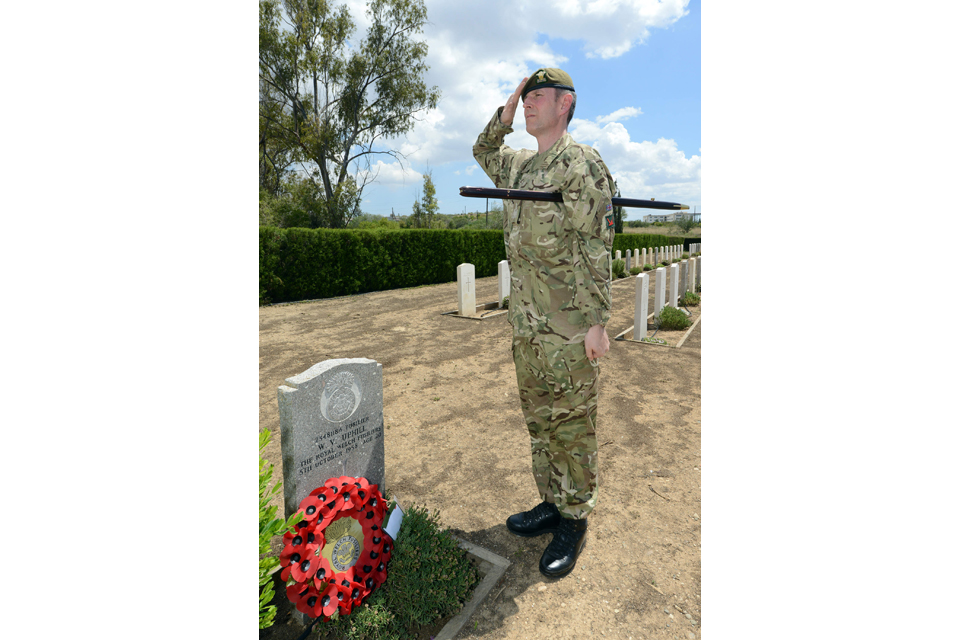 Pay our respects
The father-of-two has twice before visited the fusilier's grave on previous Royal Welsh exercises in Cyprus, on the first occasion alongside his father in 2008. He said:
I think it is important that if we have cap badges in this cemetery that we go and pay our respects to the fallen.

I have arranged the repatriation of soldiers killed in Afghanistan and I know what it means to the men to ensure they do their duty because it means so much to their families.
A wreath was also laid at the graves of 2 other Welsh soldiers whose remains are buried there – Private James Gould, aged 22, of The Welch Regiment, who was also killed in the EOKA campaign, and Private JT Northcote, aged 19, of the South Wales Borderers, who died in 1947 from injuries he suffered during the Second World War.
Published 24 May 2013