News story
Register to buy tablet devices for your school
Schools should register their initial interest by 6 May 2016 to buy tablet devices using sector collective buying power.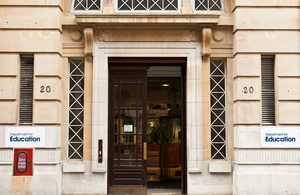 DfE is facilitating a further procurement to allow schools to buy tablets using 'sector collective buying power' after the pilot saved 12%. The procurement will be managed by the Crown Commercial Service (CCS).
Sector collective buying power allows a group to negotiate better discounts.
The procurement will offer 4 tablet options:
Apple iPad
Microsoft Surface Pro
LearnPad
a generic tablet
There will also be a number of associated items to choose from, eg security marking, covers and charging stations.
Register your interest in buying tablet devices
To register, email CG.Communications@education.gov.uk by 6 May 2016 with:
your name
your school's name
your contact details
an estimate of how many devices you need
How the procurement will work
Schools can register their interest for any number of devices. In total, across all schools, DfE needs to order at least 500 devices for the procurement to go ahead. We'll let registered schools know if we can't run the procurement.
If the procurement is agreed, CCS will publish forms to capture your school's requirements. A series of webinars and a helpline to help you with the application process are available once you register your interest.
The actual procurement will be completed for you - you won't need to run it yourself.
DfE will continue to advertise the procurement after 6 May, which will hopefully encourage more schools to register, leading to more competitive prices.
The estimated timescales are:
April/May - DfE gather schools' commitment and volumes
Deadline for commitment is 24 May
June/July - DfE runs procurement
July/August - schools place orders and receive tablets
August/September - schools pay the supplier
A representative from Bournville Primary School, one of the schools in the initial pilot, commented that "the process was simple and we were assured by the fact that we were purchasing from an approved supplier operating under the framework's terms and conditions".
Attend a webinar
Join one of our introductory webinars to learn more about how the procurement will work and get answers to any questions you may have. These webinars will help you complete your requirements if you do decide to get involved. Register using the links below:
Advice line
You can also dial into our advice line to ask questions. A procurement expert will be on hand on Tuesdays from 12.30pm to 1.30pm and on Thursdays from 3.30pm to 4.30pm every week until 23 May. To dial in and ask your question please call 0800 496 0693 and enter 6787224 when prompted for a PIN.
Published 8 April 2016
Last updated 28 April 2016
+ show all updates
added information about webinars and advice line.
First published.