Reform of children's trusts
Information on plans to reduce the bureaucracy surrounding children's trusts.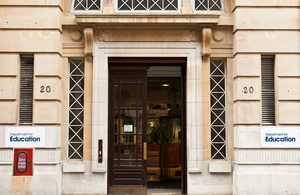 Strong local partnerships are crucial to meeting the needs of all children, but a 1-size-fits-all approach will not work. That is why this government intends to remove much of the bureaucracy surrounding children's trusts and allow schools to choose how best they may engage. The Secretary of State has indicated that he proposes to:
remove the duty on schools to cooperate through children's trusts via the forthcoming Education Bill
remove the requirement on local authorities to set up children's trust boards and the requirement on those boards to prepare and publish a joint children and young people's plan (CYPP), at the first available legislative opportunity
revoke the regulations underpinning the CYPP and withdraw the statutory guidance on children's trusts, in the autumn.
Further information
Does this mean children's trust partnerships are no longer a priority?
No, the government supports effective local partnerships and is freeing them to address local issues with innovative solutions. The basic duty to cooperate will continue but the list of statutory partners will be reviewed.
What will the proposed changes mean for schools?
Teachers and headteachers will be able to concentrate on teaching and learning. This is part of a wider programme of measures for reducing bureaucracy which we intend to communicate to schools and local authorities in the autumn.
When will the new arrangements come into force?
We intend to introduce legislation to remove the duty to cooperate from schools, revoke the regulations and withdraw the guidance in the autumn. The other proposed legislative changes to children's trusts will follow as soon as possible.
What does this mean for the new CYPP due in April 2011?
Once the regulations are revoked there will be no requirement to produce a new CYPP in April 2011 unless the local area wishes to do so. Also, how the plan is put together and what it contains will be for the local partners to decide.
Background
Children's trusts are local partnership arrangements to improve children's wellbeing (the 5 outcomes). They are not defined in legislation but are underpinned by a 'duty to cooperate' in section 10 of the Children Act 2004. The Apprenticeships, Skills, Children and Learning Act 2009 amended section 10 by bringing schools, colleges and Jobcentre Plus under the duty to cooperate and requiring all local areas to have a children's trust board, which had to prepare and publish a jointly owned CYPP by April 2011.
DfE enquiries
Central newsdesk - for journalists 020 7783 8300
General enquiries - for members of the public 0370 000 2288
Published 22 July 2010