News story
Reduction in Japanese carbon emissions target for 2020: Statement by Edward Davey
Statement by Secretary of State Edward Davey in response to the Japanese government's decision to reduce its carbon emissions target for 2020 to 3.8% below 2005 levels, or 3.1% above 1990 levels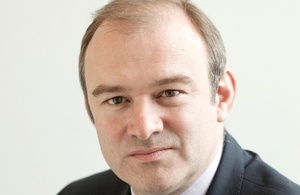 It is deeply disappointing that the Japanese Government has taken this decision to significantly revise down its 2020 emissions target. This announcement runs counter to the broader political commitment to tackle climate change, recently reaffirmed by G8, as well as the enhanced ambition we have seen from the world's major emitters.
Yet I believe we can persuade Japan to change her mind again, to resume her leadership role in the world on climate change. Despite the challenges, if the public backs the Government it can invest in low carbon electricity.
Japan's new target of a 3.8% reduction on 2005 levels will in essence equate to a net increase of 3% on 1990 levels by 2020. This compares to their previous target of a 25% reduction by 2020 compared to 1990 levels and if it remains as announced, would represent a dramatic dilution of Japan's mitigation ambition. This is inconsistent with the unequivocal message from the IPCC's recent report on the scientific evidence, which clearly underlines the urgency of addressing emissions reductions and avoiding lock in to a high emissions pathway. The longer we delay effective action, the higher the risks and the greater the costs.
Our aim through the UN climate negotiations is to agree a regime that delivers on limiting global average temperature increases to below 2°C above pre-industrial levels. The UK has always recognised that those Parties with the greatest responsibility and capability should take on the most ambitious targets.
As the world's third largest economy, Japan needs to be at the forefront of taking ambitious action. We note Japan's decision to increase its international climate financing commitment, to $16bn. This is a welcome addition to a crucial pillar of global efforts to tackle dangerous climate change, but we must be clear that it should be in partnership with, and cannot substitute for, ambitious emissions targets. We also note that Japan has reaffirmed its long-term emissions reduction target of 80% by 2050. It will be important to understand how Japan intends to meet this, and set an ambitious 2030 target, in the light of the announcement to reduce its 2020 target.
Nuclear power delivered 25% of Japan's electricity before the tragic events at Fukushima and I understand the importance of nuclear to Japan's pre-Fukushima emissions reduction plans. I also appreciate the difficult political task that the Government of Japan has in re-aligning the country's domestic energy policies in the wake of the accident. But a shift of this magnitude at this time represents a major step backwards. I would stress that in the UK, we are clear that nuclear is an integral part of our low carbon energy mix. I would also underline the opportunities that energy efficiency and renewable energy afford in determining Japan's future energy mix. The UK Government wishes to continue to cooperate with Japan in realising fully these opportunities, revising positively its emissions target, and setting an ambitious 2030 target.
We urge the Government of Japan to reassess this decision and increase the target in the near future as it clarifies its future energy policy.
Published 15 November 2013