News story
Reducing the use of animals in research: funding now available
Organisations can apply for funding of up to £1 million for projects that help to replace, refine and reduce the use of animals in research.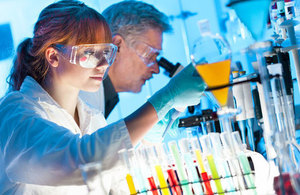 A new challenge-led funding competition aims to help replace, refine and reduce the use of animals in research. The National Centre for the Replacement, Refinement and Reduction of Animals in Research (NC3Rs) runs annual CRACK IT Challenges to:
minimise the use of animals in research
fund collaborations between industry, academics and SMEs
support the development of marketable products and/or improved business processes
This year, NC3Rs and the Defence Science and Technology Laboratory (Dstl) are funding two challenges:
Metaboderm
The challenge aims to develop new capability to understand and interpret human relevant skin metabolism. This includes rates of metabolism in the skin and approaches towards metabolite identification.
InMutaGene
This challenge aims to develop a new platform to address the risks of insertional mutagenesis / oncogenesis. It also aims to improve the efficiency of translational research in gene therapy.
Each challenge offers a research contract through the SBRI programme with up to 3 years to complete the project. More information on these challenges can be found on the CRACK IT website.
Competition information
this competition is open now
the registration deadline is noon on 4 November 2015
Published 19 October 2015