News story
Reducing animal use in research: apply for business contracts
Businesses are being challenged to come up with new ways to minimise the use of animals when researching skin metabolism and gene therapies.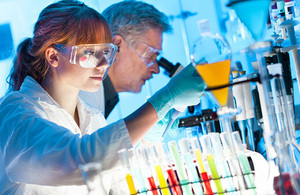 Under the CRACK IT challenge programme led by the National Centre for the Replacement Refinement and Reduction of Animals in Research (NC3Rs) there are 2 challenges:
the Metaboderm Challenge – a search for modelling techniques to establish absorption, distribution and metabolism properties of chemicals in skin
the InMutaGene Challenge – to devise a new platform to assess the risks of gene therapies
Successful new tests under the Metaboderm Challenge could help in the design and risk assessment of drugs and cosmetics applied to the skin. A new platform devised under the InMutaGene Challenge could help in the successful development of gene therapies for many disorders.
The competition for 100% SBRI (Small Business Research Initiative) contracts is funded by NC3Rs and the Defence Science and Technology Laboratory (Dstl).
Multinational pharmaceutical and consumer product companies will sponsor the competition with in-kind contributions and support for the challenges.
Business will be asked to explore approaches in the first phase of the competition. The most promising ideas could attract further funding for development in phase 2. Up to £2 million is available across both challenges.
Competition information
the competition opens on 14 September 2015 and the deadline for registration is noon 4 November 2015
up to 3 contracts of up to £100,000 are available for phase 1 projects under each challenge
phase 1 projects should last 6 months and phase 2 projects 3 years
projects are open to businesses working in collaboration with other businesses and academics
a launch meeting takes place in central London on 10 September 2015 at which potential applicants can meet sponsors and learn more about the challenges
Published 1 September 2015