Press release
Record numbers benefiting from thriving childcare market
More 3- and 4-year-olds than ever are getting free childcare, and over 1 million are now in 'good' or 'outstanding' educational settings.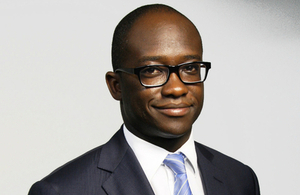 Statistics released today (25 June 2015) show an unprecedented demand for childcare places thanks to the government's offer of 15 free hours per week - resulting in 99% take-up from 4-year-olds and 94% take-up from 3-year-olds.
The figures mean that around 650,000 3-year-olds and 675,000 4-year-olds currently receive funded early education - a total of over 1.3 million.
The number of free hours is soon to rise to 30 hours for working parents, meaning their children will be able to benefit from 1,140 free hours per year - worth around £5,000 per year in their back pocket.
Childcare providers have risen to the increased demand, and today's statistics show that for the first time more than 1 million 3- and 4-year-olds get their funded hours in settings rated 'good' or 'outstanding' by Ofsted.
Childcare Minister Sam Gyimah said:
It's fantastic that not only are more parents accessing free childcare, but more places are in top-quality settings.

I'm delighted that we are extending this popular offer and doubling the number of free hours of high-quality childcare to working parents.

No parent should be denied the childcare option that works best for their family, but costs have historically been a burden on family finances that prevented them from working if they wanted to. We are removing these barriers and giving parents the chance to return to work.
Two-year-olds from the 40% most disadvantaged backgrounds are also eligible for 15 hours of free childcare per week. Today's statistics show that around 157,000 2-year-olds are already benefiting following its introduction in September 2014, and that 85% attend good or outstanding settings.
The Childcare Bill, introduced to Parliament this month, will double free childcare available for up to 600,000 families.
The government has also committed to increase the average funding rate provided. A Department for Education review has already begun, overseen by Childcare Minister Sam Gyimah.
A new government taskforce, headed by Minister of State for Employment Priti Patel, will also work to drive forward the plans to benefit working families.
Notes to editors
The statistics come from the provision for children under 5 years of age in England: January 2015.
The number of 4-year-olds receiving funded early education has risen by 16,540 from last year (658,680 to 675,220).
The number of 3-year-olds receiving funded early education has risen by 5,440 from last year (641,230 to 646,670).
The number of 3- and 4-year-olds attending settings rated as 'good' or 'outstanding' is 1,035,870 or 85%. This is up from 84% last year.
The number of providers (excluding childminders) offering free places has grown, with an additional 3,690 providers offering places for 2-year-olds compared to 2014.
The Ofsted ratings relate only to where statistics are available.
Support for families put in place by the last government includes:

an increase in Department for Education funding for childcare from around £5 billion per year to £6 billion per year
funding 15 hours a week of free childcare for all 3- and 4-year-olds - an increase from 12.5 hours, saving families an additional £425 a year per child
funding 15 hours a week of free childcare for around the 40% most disadvantaged 2-year-olds. This saves families over £2,500 a year per child
legislating for tax-free childcare, which will save around 1.8 million working families with children under age 12 up to £2,000 per child per year
increasing child tax credit entitlement up to £2,780 per year for families with 1 child, £480 more a year than 2010
introducing shared parental leave to help mothers back into the workplace when their children are still young

The Childcare Bill legislation introduced to Parliament would place a duty on the Secretary of State for Education to ensure 30 hours of childcare is provided to 3- and 4-year-olds of working families for 38 weeks of the year. This includes the 15 hours currently available and the additional 15 hours.
DfE enquiries
Central newsdesk 020 7783 8300
General enquiries 0370 000 2288
Published 25 June 2015