Recommendations to protect people who choose cosmetic surgery
An independent review of cosmetic surgery recommends better regulation, better training and proper redress if things go wrong.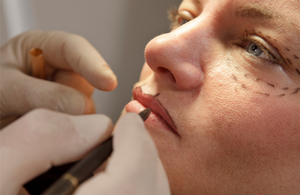 The main actions that the review group says would contribute to a successful and safe cosmetic surgery industry include:
making all dermal fillers prescription only
ensuring all practitioners are properly qualified for all the procedures they offer, from cosmetic surgeons offering breast enlargement to people offering 'injectables', such as dermal fillers or Botox
an ombudsman to oversee all private health care including cosmetic procedures to help those who have been treated poorly
The recommendations are outlined in a report published today, the 'Review of the Regulation of Cosmetic Interventions'.
The review found that, despite the popularity of non-surgical procedures such as Botox, dermal fillers or laser hair removal – which account for nine out of ten procedures in the UK – there is almost no regulation for them. This is despite the fact that they can have major, permanent effects on people's health.
The review chairman, NHS Medical Director Professor Sir Bruce Keogh, said:
At the heart of this report is the person who chooses to have a cosmetic procedure. We have heard terrible reports about people who have trusted a cosmetic practitioner to help them but, when things have gone wrong, they have been left high and dry with no help. These people have not had the safety net that those using the NHS have. This needs to change.
We would like to see everyone who chooses to have any cosmetic procedure better protected. We would like to see people who carry out procedures trained to a high standard. We would like the public to feel confident they are going to be well looked after and, if things go wrong, that they will be supported. And ultimately, if someone needs to step in on the side of patients, we think there should be an ombudsman to do that.
Health Minister Dr Dan Poulter said:
While there are some responsible clinics which do take proper care of their patients, Sir Bruce Keogh's review makes clear that there is a significant risk of people falling into the hands of cowboy firms or individuals whose only aim is to make a quick profit. These people simply don't care about the welfare of the people they are taking money from.
If anything good can come of awful episodes like the PIP scandal, it is that the safety of the procedures that people may choose to undergo has been questioned. It is clear that it is time for the government to step in to ensure the public are properly protected.
The independent panel has made some far-reaching recommendations, the principles of which I agree with entirely. We will consider the report carefully and respond in detail in the summer.
Other recommendations are that:
surgical providers should provide a record of implants and operations to both the person undergoing a procedure and their GP
a registry should be established for breast implants and other devices – this should alert the authorities to any signs of concerns at an early stage, and will provide critical intelligence in the event of product failure or recall
providers are obliged to ensure that people are aware of the implications and risks of procedure and that they have adequate time to consider this information before agreeing to surgery
an advertising code of conduct should be developed and compliance should be mandatory for all practitioners insurance products should be developed to protect patients in the event of product failure, or provider insolvency
The review was commissioned by the government following the PIP breast implant scandal, which exposed significant lapses in product quality, after care and record keeping. It also drew attention to widespread use of misleading advertising, inappropriate marketing and unsafe practices across the sector.
Published 24 April 2013