World news story
Recent honours recipients celebrated in New York
This was published under the 2010 to 2015 Conservative and Liberal Democrat coalition government
On 8 April, British Consul General Danny Lopez hosted a reception for Kathryn Foster, Judy O'Rourke and Leila Straus at the British Residence in New York.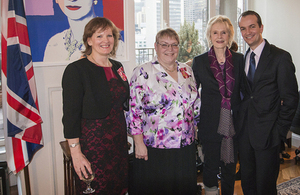 All three were recently honoured by Her Majesty The Queen for their services to Britain.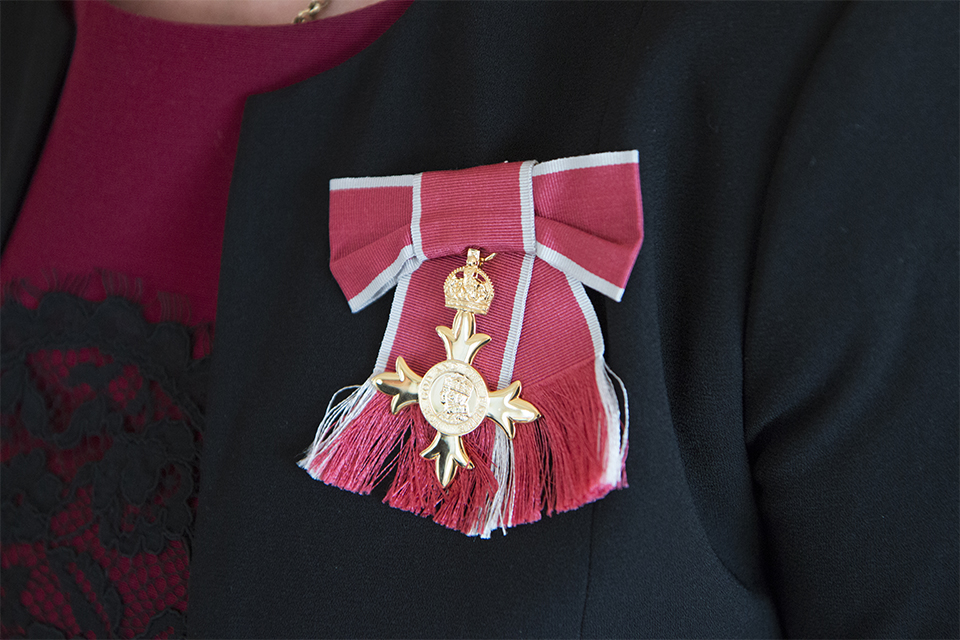 Kathryn Foster was made an Officer of the Order of the British Empire in the Queen's Birthday Honours in 2013 for her services to border security. She joined the UK civil service in 1986 and has worked for UK Visas and Immigration in many locations since, including Paris, Istanbul and Heathrow Airport.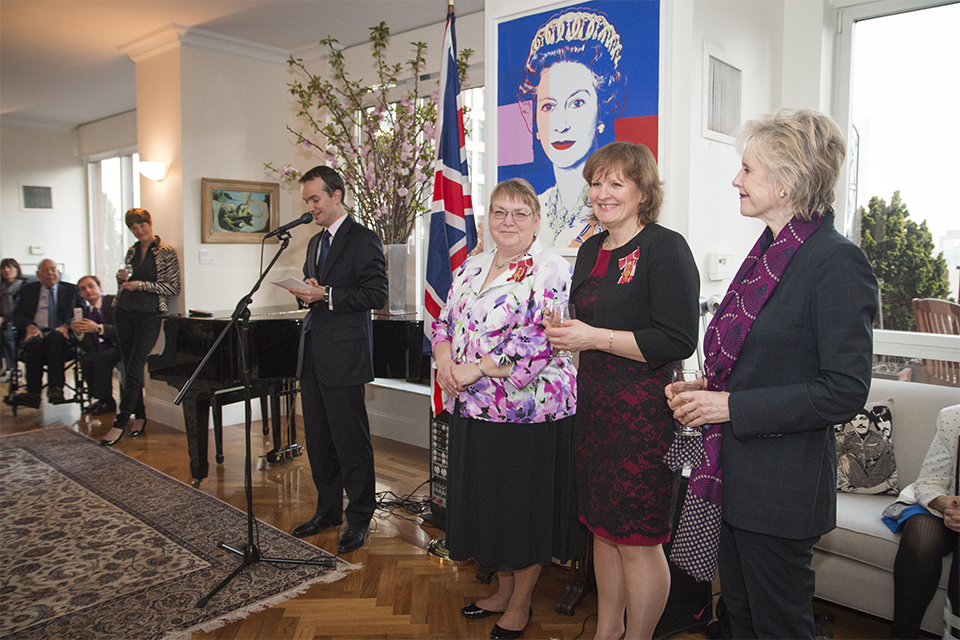 "Kathryn was a major figure in the immigration team who helped to make the Olympic and Paralympic Games happen as smoothly and successfully as they did in 2012," said Consul General Lopez. "Her contributions to border security and customer service during one of Britain's proudest moments are unparalleled. She was awarded an OBE in recognition of her work on the Olympic programme, as well as her ongoing support for the charity Cancer Research UK over many years."
Judy O'Rourke is director of undergraduate studies at Syracuse University, New York. She was made an honorary Officer of the Order of the British Empire in a ceremony conducted by Her Majesty's Ambassador to the United States, Sir Peter Westmacott, earlier this year.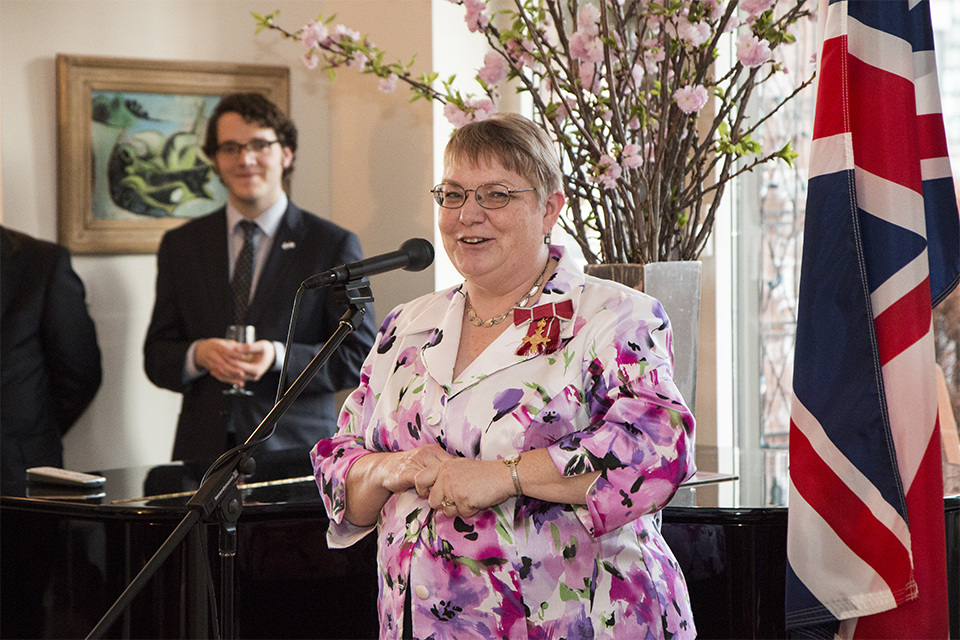 "Ever since the terrorist bombing of Pan Am Flight 103 in 1988, which killed 270 people, Judy has worked tirelessly to bring together the communities of Lockerbie and Syracuse both in remembrance and through hugely beneficial educational ties," said Consul General Lopez. "Shortly after the bombing, she created two scholarship programmes – the Lockerbie Scholars and the Remembrance Scholars – as a way to bring the two communities together in a positive way after all they had endured together. Since then, 50 students from Lockerbie Academy have studied at Syracuse and over 700 from Syracuse have served as Remembrance Scholars."
David Mundell, the Parliamentary Under-Secretary of State in the Scotland Office, said of Judy's award, "This honour could not be more deserved. Judy is a truly inspirational person who has been the driving force behind [Lockerbie's] relationship with Syracuse University, which many people in Lockerbie and the surrounding area consider to be the only good thing to have come from the 1988 Lockerbie Air Disaster."
Leila Straus was made a Member of the Order of the British Empire in the New Year Honours 2014 for services to philanthropy and the arts. She has been the chair of the American Associates of the National Theatre for a decade now, a period which has seen huge successes for the National Theatre in the US, including the Tony-winning commercial successes War Horse, The History Boys, and One Man, Two Guvnors.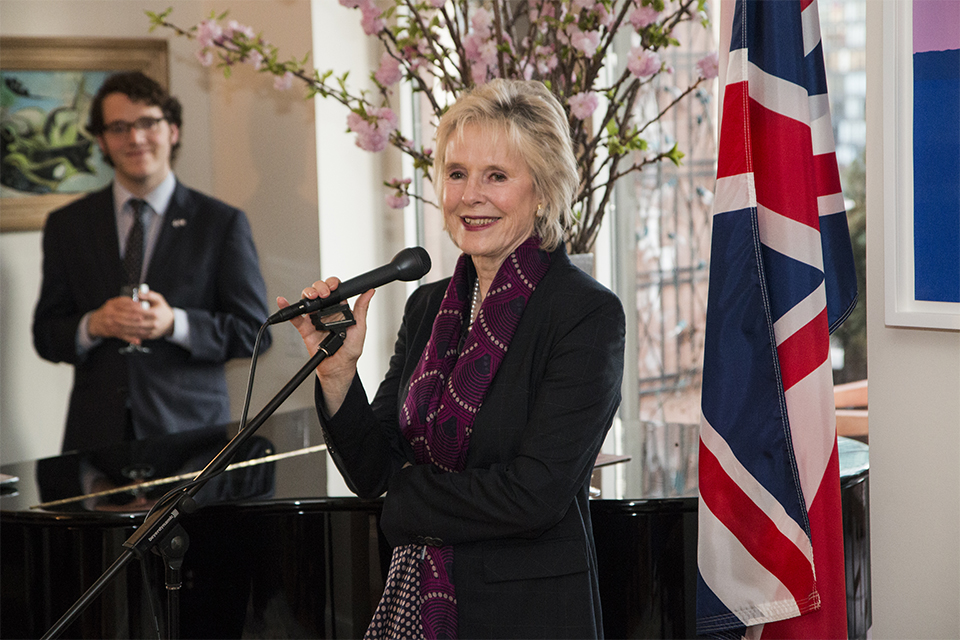 "At times, Broadway can feel a little bit like Shaftesbury Avenue, and for that we have Leila to thank," said Consul General Lopez. "It would simply not be possible for the National Theatre to continue producing the quality of work it does without the philanthropic work of Leila and others like her. She has successfully expanded the work of the American Associates out of New York to Chicago, DC and California, and raised millions of dollars in the process."