Press release
Real wage growth highest in 7 years
Real wages have grown faster than at any point in the last 7 years, official figures out today show.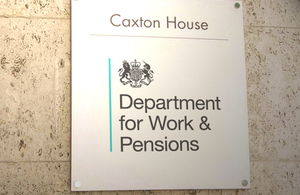 Annual real wage growth is now at 2.7% – the highest it has been since 2007.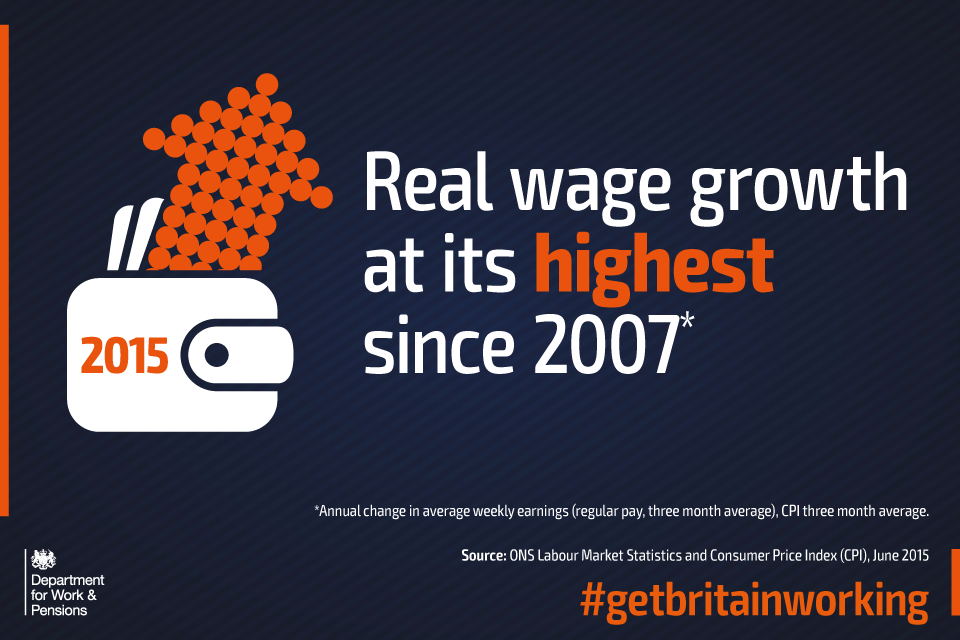 In further proof that the jobs market is continuing to grow, there are over 2.4 million more people working in the private sector than in 2010, with annual private sector pay growth now up to 3.3%.
More than 400,000 extra people are in work compared to a year ago, while unemployment has also fallen nearly 350,000 over the same period to its lowest level since August 2008.
The proportion of the workforce claiming benefits because they are unemployed is now at its lowest level since 1975 – down to 2.3%.
The government has taken action to reform the welfare system and is supporting people off benefits and into work. The number of people claiming the main out-of-work benefits has fallen by more than 1 million since 2010 – the lowest level since 1982.
Employment Minister Priti Patel said:
Today's figures confirm that our long-term economic plan is already starting to deliver a better, more prosperous future for the whole of the country, with wages rising, more people finding jobs and more women in work than ever before.

As the government for working people, we want to go further and create one nation that is based on security and opportunity. We will continue to help businesses create jobs and support those who want to work hard and get on as part of our ambition to achieve full employment.
The vast majority of the rise in employment in the last year – 85% – has been in full-time work, and the UK's employment rate has seen the largest rise of any G7 economy over the last year.
The number of vacancies across the UK economy is well over 700,000 at any one time. Professional, scientific and technical roles saw the largest jobs growth over the last year – while hospitality, retail, manufacturing and construction also grew.
Youth unemployment, excluding full-time students, has fallen below the level it was before to the recession.
Long-term unemployment fell to its lowest level in more than 5 years – supported by the Work Programme, which is the biggest single payment by results employment programme Britain has ever seen.
Last month we announced we would be bringing in new measures to support our commitment to achieving full employment. The measures include:
young unemployed people required to take part in training or work placements as part of new, tougher day one work requirements
increasing free childcare for 3 to 4 year olds from 15 to 30 hours
tax-free childcare for every child so parents get 20% off
reducing the benefit cap to £23,000 to ensure people are always better off in work
Key UK employment facts
regular wages (excluding bonuses) rose by 2.7% over the last year
employment rate is 73.4%
record employment rate for women (68.6%)
unemployment rate is 5.5%
employment up over 400,000 in the past year alone
employment up more than two million since 2010
there are 734,000 vacancies in the economy at any one time
there are 1 million fewer people claiming the main out of work benefits than in 2010
long-term unemployment now lowest since June 2009 after falling 219,000 in the last year – supported by the Work Programme
youth unemployment, excluding those in full time study, fell 85,000 in the last year and is now below where it was before the recession
More information
New official statistics have also been published today showing the latest number of claims to Universal Credit.
Contact Press Office
Media enquiries for this press release – 020 3267 5111
Press Office
Caxton House
Tothill Street
London
SW1H 9NA
London Press Office (national media and London area enquiries only – not questions about personal claims) 020 3267 5144
Out-of-hours (journalists only) 07623 928 975
England and Wales (local media enquiries) 029 20 586 then 097 or 098 or 099
Scotland (local media enquiries) 0131 310 1122
Follow DWP on:
Published 17 June 2015