Reaffirming the UK's commitment to Libya
Foreign Secretary William Hague has announced further UK support for Libya, a year on from the uprising.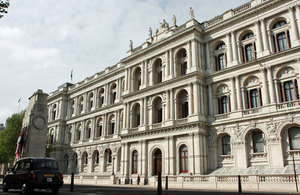 Speaking today the Foreign Secretary said:
"One year ago the Libyan revolution began on the streets of Benghazi. Libyans across the whole country can be proud of how much they have achieved and the hope they have given to others around the world living under the oppression of brutal regimes. Tangible progress has already been made in the transition to a peaceful and stable country. Libya's future is far brighter than it was a year ago, but there are challenges ahead.
The UK shares the ambitions of Libyans for a stable, prosperous country based on respect for fundamental freedoms and human rights. Today we reaffirm the UK's commitment to supporting Libyans in realising their ambitions, strengthening our bilateral relationship and making progress on resolving the outstanding legacy issues arising from the actions of the Qadhafi regime. In addition to support we have provided on counter-proliferation, security and civil society, I am pleased to announce further UK support:
an additional £1 million assistance on demining through the UN, which will nearly double the one million people the UK has so far helped protect from unexploded ordnance;
a six month programme to promote women and youth's participation in the political process and a national youth conference in Benghazi in March, helping to build a strong civil society which is critical to Libya's future;
we will hold a conference in the Spring on human rights, which will look to identify ways the Transitional Government can take urgent steps to implement commitments made on upholding human rights and ensure reports of detainee abuse are being addressed;
we are providing practical expertise to promote the rule of law including strategic advice to the Ministry of Interior, support to the Judicial Police through a prisons reform project and funding for a series of training workshops for Libyan lawyers;
I saw first hand in Benghazi and Tripoli the horrific injuries many Libyans have suffered. In partnership with the Libyan authorities, we have worked to provide those injured with Libyan-funded treatment in UK hospitals. We are now building a longer-term UK - Libyan partnership to help develop a new and fully functioning healthcare system in Libya through NHS support and promoting opportunities for UK companies;
we are looking at other areas where we can provide support including on preparations for elections and sharing institutional knowledge and expertise with Libyan Ministries; and
to facilitate links between the UK and Libya and to promote investment by British companies, we are working to resume a UK visa service which I hope will be in place shortly.
The work to rebuild Libya is just beginning and there are undoubtedly challenges ahead. But it is important to remember what has been achieved. A brutal tyrant has been overthrown. Libyan assets have been unfrozen and can now be accessed to benefit the Libyan people. The recent publication of the elections law is an important step in preparing for elections in June, marking the transition to an open and democratic era. Civil society is flourishing for the first time in 40 years and people can voice their views freely. Of course it is to be expected that some will be frustrated with the pace of reform but one year on from the beginning of the revolution, the future of Libya is firmly in the hands of the Libyan people.
Published 16 February 2012