News story
Ramadan message from Eric Pickles
Communities Secretary Eric Pickles wishes all communities a peaceful and blessed Ramadan.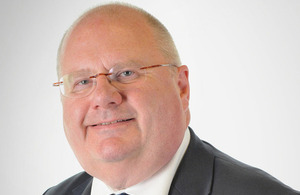 Communities Secretary Eric Pickles said:
Best wishes to everyone who is marking the holy and sacred month of Ramadan.

During this time of spiritual reflection and contemplation our Muslim friends and colleagues right across the country will be sacrificing the daily luxuries that we can take for granted, and thinking of those less fortunate than themselves.

The values of compassion and charity are not only an integral part of this holy month, but are also evident throughout the year as the Muslim faith gives more to charity each year than any other group, strengthening and supporting our communities. It's another example of how Islam fits hand in hand with the best of British values.

As family and friends gather to enjoy their daily iftar, it's terrific that the 'Big Iftar' is happening again this year as mosques and other faith and civic buildings will open their doors to welcome in their local communities, share some food and get to know each other.

It makes Ramadan the perfect time to make new friends, and I hope everyone who attends a Big Iftar event has a fantastic time!

I wish you and your families a peaceful and blessed Ramadan.
Published 27 June 2014