News story
Rail ticketing progress report: passenger experience improved but more work to be done
Progress report on long-term plan to change and improve rail ticketing.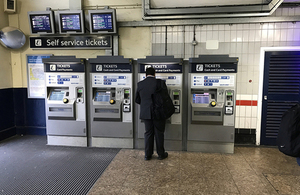 Better information on fares and simpler ticketing has helped rail passengers save money and improved the overall travel experience this year, Rail Minister Paul Maynard has announced.
A 'one year on' update on the Rail fares and ticketing action plan was published today (21 December 2017), which looked at the progress made since the plan was launched in December 2016. The action plan brought the government, train companies, the consumer group Which? and the independent passenger watchdog Transport Focus together to help passengers identify and buy the cheapest and most suitable train tickets.
The progress report noted that a cut-price ticket that passengers can buy up to 15 minutes before traveling and greater flexibility on forgotten railcards have been key achievements of the action plan launched in December 2016.
Rail Minister Paul Maynard said:
Our aim was to make it easier for passengers to find the best value fares, offer greater flexibility when travelling and remove the complexity from the whole ticket buying process, which can sometimes leave people scratching their heads.

Working with the train companies and consumer groups has helped us make some really positive changes, and work will continue into the new year to improve ticket vending machines and bring forward fare pilots, to ensure buying the right ticket is simple, easy and straightforward.
Targets achieved in the plan include:
in March, new rules were introduced to allow passengers who had forgotten their railcards to claim a refund if they ended up having to pay more
in May, train operators committed to cutting jargon on tickets, making it easier for passengers to choose the best ticket for their journey - since then, more than 200,000 instances of confusing language and abbreviations have been removed from tickets
by September 9 train operators had introduced the 'Advance Purchase On Day' (APOD) ticket, allowing passengers to buy a discounted ticket up to 15 minutes before their journey, where previously they had only been able to buy it up to the day before - since then more than a million have been sold, far exceeding expectations
Alex Hayman, Which? Managing Director of Public Markets, said:
The action plan has shown that the rail industry can deliver changes to the ticketing system quickly.

Good progress has been made towards making it less confusing and complex for passengers, but the government and industry must continue to deliver improvements that help passengers to choose the best tickets for their journey.
Paul Plummer, Chief Executive of RDG, which represents the rail industry, said:
The partnership railway is working together with a long-term plan to change and improve the railway. We have made a commitment to increase customer satisfaction by improving the passenger experience overall.

A key part of this includes simpler ticketing information, quicker journeys and better value-for-money for our customers. We will continue to work with government and others to get this right.
Anthony Smith, chief executive of the independent watchdog Transport Focus, said:
Passengers will be pleased to see the progress made so far, including advance fares now available on the day of travel, and more discretion shown when railcards have been forgotten. We now look forward to seeing further wins for passengers from wider reform of the complicated issues.
Rail media enquiries
Media enquiries 020 7944 3021
Out of hours media enquiries 020 7944 4292
Switchboard 0300 330 3000
Published 21 December 2017