News story
Rail Minister sees south-west improvement schemes
Works will boost capacity and transform the passenger experience.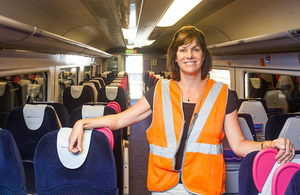 Rail Minister Claire Perry visited the south-west today (7 August 2014) to see how station and train improvements will boost capacity and provide more comfortable and convenient journeys for passengers.
The minister visited the Laira train maintenance depot near Plymouth to see the refurbishment work currently underway on First Great Western's fleet of high speed trains. The company is investing £13 million to convert the first class carriages to standard class, in order to provide 3,000 additional standard class seats for passengers from 2015. Free wi-fi is also being installed to help passengers stay connected while on the move.
Following the visit, the minister travelled to Taunton to see how £4.6 million from the government's Local Growth Fund will help transform the station, providing improved facilities for passengers, more parking and a new station entrance. The improvements will also support the wider redevelopment of the area surrounding the station, which could create around 250 jobs.
Rail minister Claire Perry said:
We are committed to ensuring that passengers in the south-west get the rail network they deserve. These improvements will make a real difference, providing more seats, more comfort and greater convenience for business and leisure travellers alike.

As part of our long-term economic plan, we are investing record amounts in transforming the UK's rail network, with more than £38 billion being spent over the next 5 years, and the work at Laira and Taunton are great examples of this.
A total of £22.9 million is being invested in the redevelopment of Taunton Station and the surrounding area. The work will create a new station entrance facing the town centre and Firepool regeneration area, as well as providing more parking, improved facilities for passengers, and new commercial, residential and retail developments that will unlock the full business potential of the area. The £4.6 million of Local Growth Fund investment will fund the redevelopment of the south side of the station.
Over the next 5 years, more than £38 billion will be invested in the rail network, providing more seats, increased reliability and improved connectivity for passengers across the UK.
Rail media enquiries
Press enquiries 020 7944 3021
Out of hours 020 7944 4292
Switchboard 0300 330 3000
Published 7 August 2014