RAF Typhoons fly 7,000 miles for Ex Bersama Lima
RAF Typhoon jets have completed a 7,000-mile (11,265km) journey to take part in Exercise Bersama Lima 11, marking the 40th anniversary of the Five Power Defence Arrangements (FPDA) (UK, Singapore, Malaysia, New Zealand and Australia).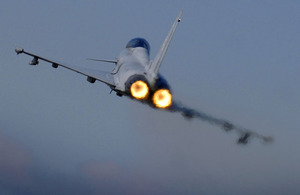 The Typhoon multi-role aircraft deployed from 6 Squadron's base, RAF Leuchars in Fife, to take the 7,000-mile (11,265km) trip to Royal Malaysian Air Force (RMAF) Base Butterworth in Malaysia.
The squadron's pilots made the journey over four days, with stops in Jordan, Oman and Sri Lanka, supported throughout by engineers and ground crews as well as a VC10 aircraft of 101 Squadron, based at RAF Brize Norton.
This detachment is also the first time that Tranche 2 Typhoon aircraft have deployed on an overseas exercise of this type.
All of the aircraft arrived in Malaysia fully serviceable, a considerable achievement given the length of the journey. Exercise Bersama Lima 11 realises a long-held aspiration to deploy Typhoon as part of the FPDA.
Participating in the exercise will provide squadron personnel with valuable expeditionary training in a tropical environment as well as experience operating in complex packages with multinational participants.
6 Squadron will continue to maintain its primary Quick Reaction Alert mission at RAF Leuchars during this deployment.
Defence Secretary Philip Hammond arrived in Singapore yesterday morning for the 40th anniversary of the FPDA and met with his defence counterparts from Singapore, Malaysia, New Zealand and Australia before laying a wreath at the Kranji War Memorial Cross alongside Vice Admiral George Zambellas. Mr Hammond then flew to Malaysia where he visited RMAF Butterworth and emphasised the importance of the partnership for security in the region.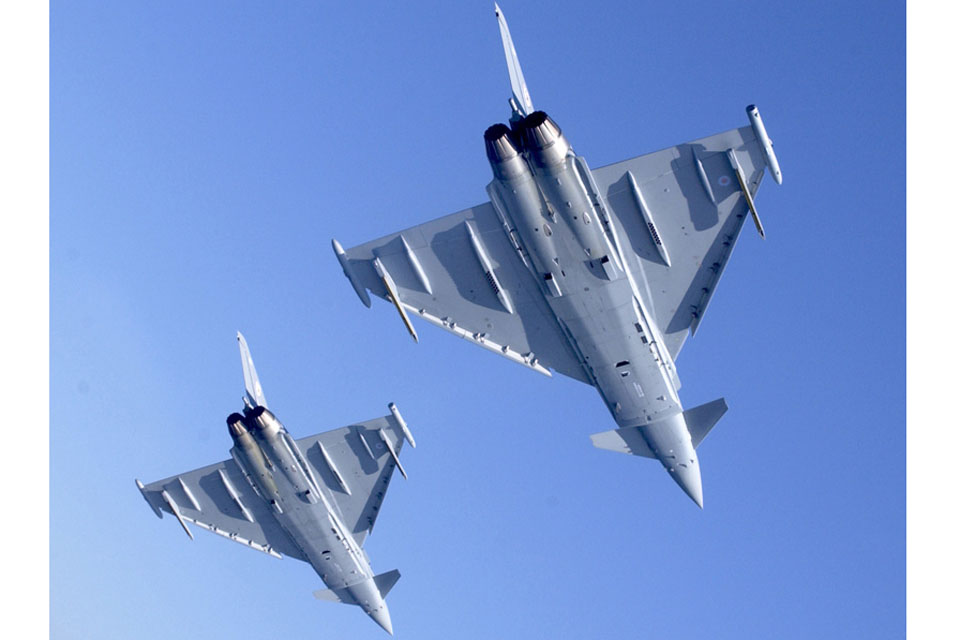 Mr Hammond said:
I am delighted that we were able to deploy Typhoon for the duration of this FPDA exercise. It underscores the UK's continued commitment to the FPDA and to our defence engagement in South East Asia.
Typhoon has proven itself on operations over Libya in both air-to-air and ground attack roles and its versatility, endurance and reliability will provide a valuable contribution to the exercise.
The FPDA has an enduring value in ensuring security in the region and it is reassuring to see the same level of commitment from our partners. Singapore and Malaysia have been pivotal members of this pact and I am honoured to be in the region to mark this historic milestone.
Officer Commanding 6 Squadron, Wing Commander Roddy Dennis, who is leading the detachment, said:
We have made a tremendous start to Exercise Bersama Lima and I am incredibly proud of all of 6 Squadron's personnel, both on the ground and in the air, who have accomplished this long-range deployment, halfway around the world, within an extremely tight lead-up time.
Looking towards the rest of the exercise, we are very much looking forward to the training opportunities that Exercise Bersama Lima 11 will offer us, particularly the opportunity to test and improve our air defence and air combat skills against other aircraft types such as the RAAF [Royal Australian Air Force] F/A-18, RMAF MiG-29 and F/A-18, RSAF [Republic of Singapore Air Force] F-15SG and F-16, whilst operating with the new RAAF Wedgetail Airborne Early Warning and Control aircraft.
We are also very much looking forward to testing ourselves in the hot and humid conditions found here in Malaysia, and to interacting with our FPDA partner nations in the air and on the ground.
I am extremely pleased that we have achieved all of this in such short order, especially in light of the recent support the squadron gave to the Typhoon Force on Op ELLAMY and whilst maintaining our primary responsibility - Quick Reaction Alert for the northern UK from RAF Leuchars; it is a true credit to everyone on 6 Squadron.
Published 1 November 2011