World news story
RAF Red Arrows perform spectacular finale to Chinese visit
A ninth and final display in China has been performed by the Red Arrows.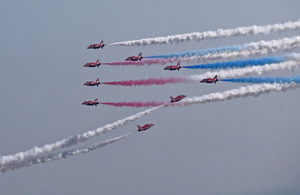 The Royal Air Force Aerobatic Team finished with a spectacular flypast involving all nine jets trailing red smoke, to draw an end to its six-day appearance at Airshow China in Zhuhai.
The displays at the event have made history, being the first time the Red Arrows have visited China and taking the number of countries in which the squadron has performed to 57 since 1965.
Squadron Leader David Montenegro, Team Leader and Red 1, said:
The team has flown nine public displays in China, in six days. In my time as Team Leader that's a first.

China has offered a beautiful display site at Zhuhai. To fly those displays back-to-back has been a real pleasure. Every single day the weather has been great.
The visit to China forms part of a major, 60-day tour to the Asia-Pacific and Middle East regions by the Red Arrows.
It is the team's largest overseas tour in almost a decade and is aimed at supporting and promoting UK interests across defence, industry, trade and education.
Sqn Ldr Montenegro said:
To deliver aircraft ready for every display, we have travelled 9,000 miles, with more than 100 personnel within the team and many from several other organisations working for months to plan this tour.

What that work has delivered is 12 serviceable aircraft into China for the very first time for the Red Arrows, and indeed the Royal Air Force.

It takes an enormous amount of teamwork and every one of the team has played a part - whether you are the 18-year-old apprentice or more experienced. It has been so enjoyable to be a part of this team.
Over the six days at Zhuhai, it is thought more than 300,000 people saw the team's nine public displays at the show with many millions more watching coverage on Chinese television.
The final display included a flypast where the aircraft trailed red smoke to celebrate the team's time in China.
Sqn Ldr Montenegro said:
To summarise the reaction, the very last crowd on our final display encapsulated how warm, welcoming and excited the spectators have been here at Zhuhai – they were enthusiastically waving flags, cheering and keen to meet members of the team.

Aviation is a global language, and that is testament to the crowd here.
During the Red Arrows' time in China, team members – including pilots, engineers and support staff – carried out engagement activities across the country, travelling to Beijing, Shanghai, Guangzhou, Wuhan, Nanjing and Haikou.
Sqn Ldr Montenegro said:
We have had time to travel around China, where we've met thousands of school children, members of industry and presented to various organisations, museums and universities.

The response has been fantastic and we have learned a lot about the people of China through this engagement, their approach to aviation and how much we have in common in this field.
The Red Arrows are due to leave China later this week, with the overseas tour continuing with displays or flypasts in India, Pakistan, Oman, Bahrain, Kuwait and the UAE.
Published 6 November 2016