RAF personnel in Afghanistan run for charity
Over 100 Service personnel from 904 Expeditionary Air Wing and their coalition partners based at Kandahar Airfield in Afghanistan donned pink T-shirts to run a 5km course for charity.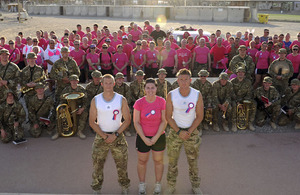 The British, American and Australian military personnel gathered together on a hot June afternoon in Afghanistan to run the 5km 'Race for Life' in support of Cancer Research UK.
After a warm-up session organised by Physical Training Instructors, the 'racers' collected at the start ready for the off.
The nature of the event meant that all the participants had to wear something pink and running attire ranged from sports kit to full body armour - a group of Americans even wore T-shirts with bras over them.
Cheered on by a crowd of spectators, and encouraged throughout by the rousing music of the Band of the Corps of Royal Engineers, they set off for 12 laps of the race route.
For the next hour, participants ran, walked and, in one case, ran as a three-legged pair, around the course to raise over £1,300 for cancer research.
The event was organised by Senior Aircraftwoman Lauren Bird, who has taken part in the Race for Life for the last seven years and was keen not to miss out just because she was on duty in Afghanistan.
Although Race for Life is a women-only event in the UK, SAC Bird found that many of her male colleagues wanted to show their support to their mums, sisters, wives and girlfriends taking part in the official runs around Britain, and decided that including men in this event was an excellent way for them to do so.
SAC Bird, who has lost several people to whom she was close to cancer, including her godmother, who lost her fight against cancer the day that SAC Bird travelled from the UK to Afghanistan, felt that this was a great way for Service personnel to help fund cancer research:
This is a cause that is dear to my heart and it was fantastic to see so many people turn up in their pink T-shirts to show their support," she said. "To raise this much was amazing and was much more than I expected when I came up with the idea.
Group Captain Andy Linstead, Officer Commanding 904 Expeditionary Air Wing, also took part in the run. He said:
It's wonderful to see that, even when working hard on ops, our people willingly give up their spare time for such a worthy cause.
Published 19 June 2012