News story
RAF firefighters train Afghan counterparts
RAF firefighters serving in Afghanistan have been training Afghans to take the lead for fire safety in Camp Shorabak, Helmand province.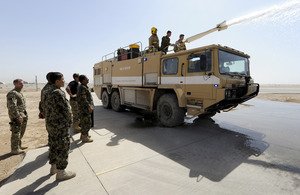 For the past few months Flight Lieutenant Kevin Baker has been watching the training of local Afghans in the garrison support unit at Shorabak. Flt Lt Baker is the theatre fire officer for Camp Bastion, which is next to Camp Shorabak.
Flt Lt Baker said:
I've been very impressed with how quickly they've picked up the techniques and the willingness they've shown to get involved.
During each visit Flt Lt Baker assisted Colonel Shazie, the Afghan fire chief, in developing command and control elements which are crucial to a modern fire service. A key development was the aviation firefighting capability to support the increased use of the helicopter landing site within Camp Shorabak.
Colonel Shazie said:
Our partners have helped us improve our training programme and put measures in place to improve our fire safety. We now have a much better capability to protect our helicopters landing here.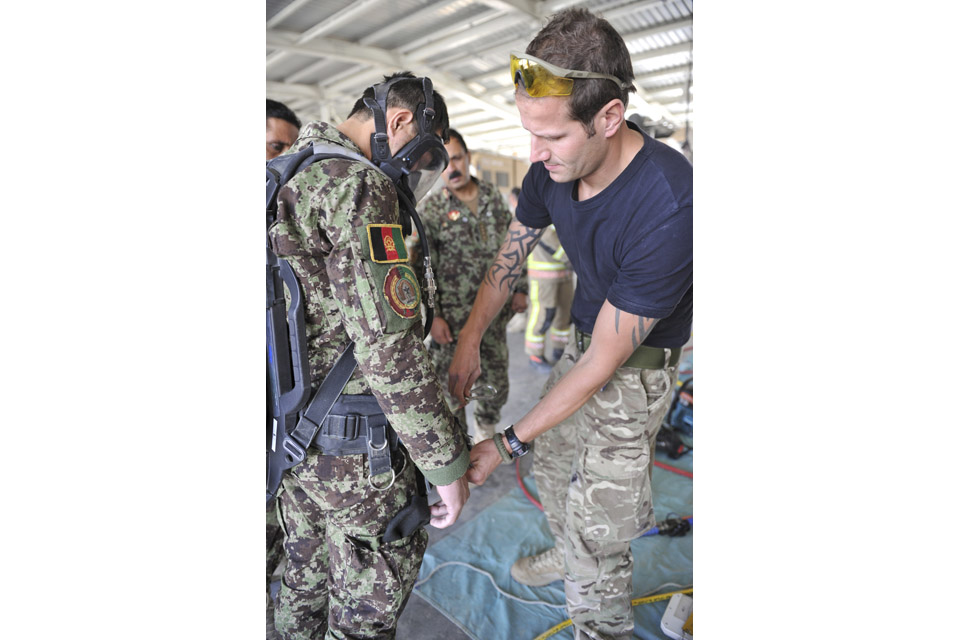 On 4 October Colonel Shazie and three junior Afghan firefighters were shown around the RAF Fire and Rescue Service crash bays in Camp Bastion where they witnessed and participated in a number of equipment demonstrations.
Flt Lt Baker said:
We showed the Afghans our breathing apparatus and thermal imaging and rescue equipment. The culmination was a demonstration of a large airfield crash firefighting vehicle followed by a chance to operate it.
The visit enabled both the Afghan and British fire services to gain a valuable insight into each other's equipment and working practices.
The RAF Fire and Rescue Service will continue to mentor their Afghan counterparts over the coming months to ensure that Camp Shorabak has a modern and forward-thinking fire service.
Related News
Published 6 March 2013