News story
RAF dentist treats military working dog
An RAF dentist in Afghanistan has successfully operated on a military working dog at Kandahar Air Field.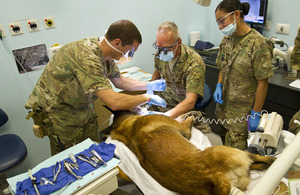 In any operational environment, it is vital that military working dogs are in good health, so when Squadron Leader Stuart Marshall and dental nurse Private Naomi Kingsbury were called in to assist with Zino, a 5-year-old Belgian Malinois, they were only too pleased to lend a hand.
Squadron Leader Marshall and Private Kingsbury make up the team working in the dental clinic at Kandahar Air Field, treating International Security Assistance Force personnel and dealing with all emergency cases. They also have a close link to the base's veterinary surgery.
South African dog handler Craig Vantonver and his dog Zino are employed by American K-9 Detection Services on a nearby air base, but when Zino became increasingly distracted his handler knew that something was wrong.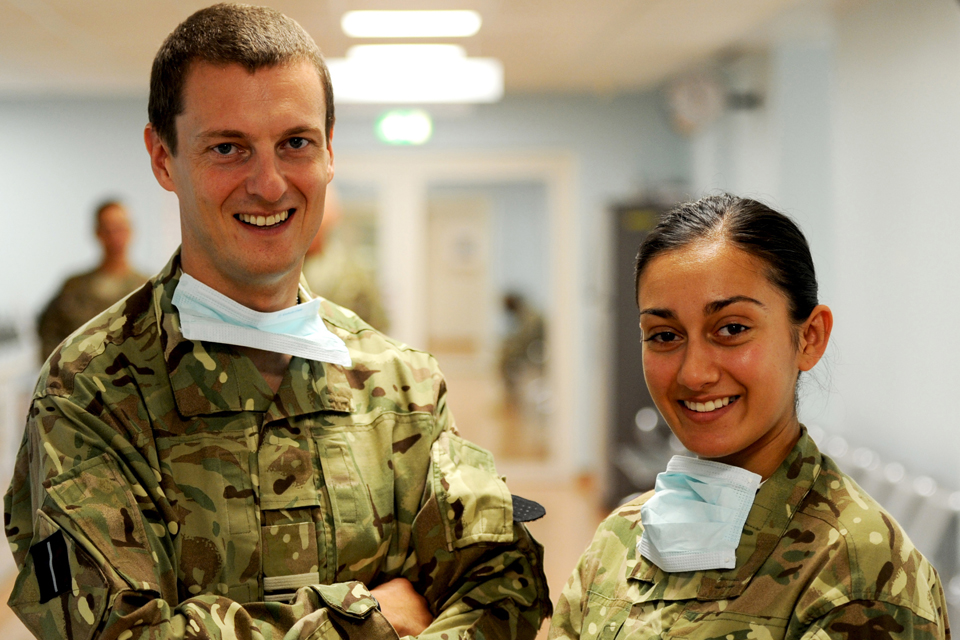 Military working dogs play a key role in improvised explosive device detection and helping to guard and patrol key installations. Without such dogs, these tasks would be significantly more dangerous.
As with the welfare of all military animals, rapid treatment for these working dogs when something goes wrong is essential for both their well-being and for minimal disruption to their invaluable operational support.
Zino was referred to Squadron Leader Marshall and Private Kingsbury by US Army vet Major Patrick Grimm, and a dental scan highlighted 2 problem teeth.
Squadron Leader Marshall, along with Lieutenant Colonel Stephen Keir, the US Army officer in charge of the dental clinic, successfully operated on Zino, removing an upper and lower molar.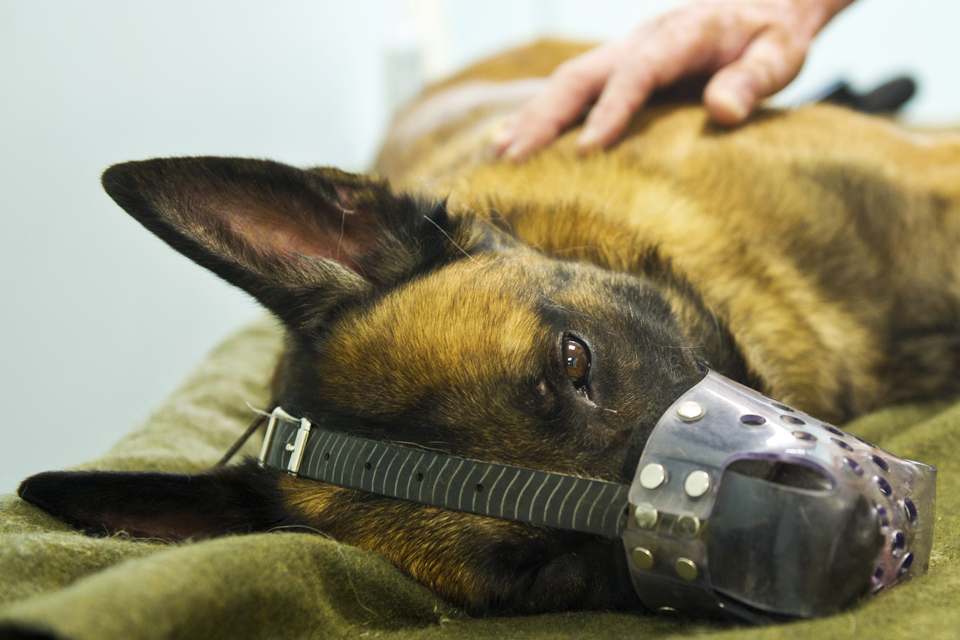 Afterwards, Squadron Leader Marshall said:
It's brilliant, really interesting and nice to be doing something different. Dogs are really important out here. If they have a problem with their teeth then they can't work, and their condition can quickly worsen; the dogs do jobs our guys just can't do.
Zino's handler was very grateful to the dental team. He said:
Squadron Leader Marshall told me Zino should be back to his usual self within a week, and we hope to have him back doing detection work about 1 week later.

Zino will have to get used to not having his back teeth pretty quickly; I reward him with his favourite toy … and he chews it with those teeth!
Published 31 July 2013