News story
RAF aircraft leaves UK to help Tunisia effort
A Royal Air Force aircraft has flown from RAF Brize Norton to assist with the Government's response to the terrorist attack in Tunisia.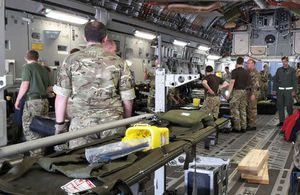 The C17 Globemaster aircraft was loaded with medical support equipment and a specialist medical team and left the Oxfordshire base at lunchtime. As the Prime Minister said earlier today, it will be able to transport injured people caught in the beach tragedy on Friday.
Defence Secretary Michael Fallon said:
It's right that we do all we can to help those affected by this terrible attack on innocent families. Sending this C17 aircraft will help to ensure the injured return home at the earliest opportunity.
The RAF aircraft is planned to return to the UK late tonight.
Published 29 June 2015