News story
Radioactive waste management in the spotlight
Hundreds of nuclear industry experts gathered in Cumbria for a two-day focus on managing radioactive waste.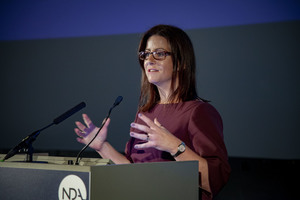 The NDA joined forces with the Nuclear Institute for one of the most anticipated events in the industry's calendar. The Integrated Waste Management Conference 2019 welcomed industry leaders and experts from across the globe at the largest event of its kind in Europe.
More than 250 delegates attended the two-day gathering - held in Penrith, Cumbria, earlier this week – to learn more about progress and opportunities from integrated waste management with talks, workshops, exhibitions and panel sessions.
A packed programme of speakers included government officials, regulators, supply chain companies, consultants and waste management experts from across the NDA group.
The NDA's Director of Integrated Waste Management, Corhyn Parr, said:
This was a rare and valuable opportunity to share learning, discuss issues and progress and to debate the opportunities around integrated waste management.

Having leading experts from industry and academia together in one place is an important aspect in driving forward the topic of radioactive waste - which is a vital part of the NDA's mission.
Earlier this year, the NDA launched its Radioactive Waste Strategy which outlines its commitment to ensuring that wastes are managed in a manner that protects people and the environment, now and in the future, and in ways that comply with government policies and provide value for money.
James McKinney, the NDA's Head of Integrated Waste Management, was responsible for developing the strategy, as well as being instrumental in organising the joint event, along with the Strategy & Technology team. He added:
The event was extremely valuable in providing a forum to discuss our approach to managing radioactive waste. We were pleased to be able to engage with the supply chain on our strategy, which will enable more flexible decision-making, driving innovations and potentially opening up new routes for waste management.
Published 10 October 2019