Radical rethink on getting drug and alcohol users back to work
Helping people trapped on benefits through drug and alcohol addiction so that they can recover and find employment is a top priority.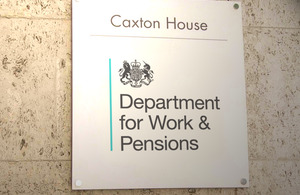 Helping people who are trapped on benefits through drug and alcohol addiction so that they can recover and find employment is a top priority for the Government, Minister for Disabled People Maria Miller said today.
Drug and alcohol addiction is one of the most damaging root causes of poverty and Ministers are committed to radically reforming the welfare system to support people through recovery and into sustainable jobs.
In light of today's report by the Social Security Advisory Committee (SSAC), Ministers have decided not to take forward previously proposed Welfare Reform Drug Recovery pilots, but instead look at how Government departments can work together to provide the help and support people need to overcome drug and alcohol dependency and get back to work.
The SSAC report, which follows a public consultation, finds the pilots are unlikely to be effective, contain a number of significant flaws and won't produce robust results.
Maria Miller said:
Drug and alcohol addiction ruins lives, destroys families, and causes serious harm to children whose parents are addicts. Under the current system, over 80% of problem drug users are estimated to receive benefits, often for many years, and with no real chance of recovering or getting back to work.

Those with drug and alcohol problems often face other difficulties in finding work, and we will now focus on addressing substance misuse in the wider context of other barriers to employment such as housing and mental health issues".

We are determined to reform the welfare system so that drug and alcohol users receive the help and support they need to overcome their dependency and get back to work".
Also published today is the research report "Problem Drug Users and their Experience of the Benefits System", which finds mixed results in the experiences of problem drug users claiming benefit, finding and sustaining employment and dealing with Jobcentre Plus.
Notes to Editors
The SSAC is the main UK advisory body for all social security matters except those relating to industrial injuries, war pensions, occupational pensions, and National Insurance contributions. Most proposals for social security regulations have to be submitted to the SSAC before they are made.
The Committee's report and a statement from the Minister for Disabled People in response to the Committee's recommendations have been placed in both Houses of Parliament.
The SSAC report can be found at http://www.ssac.org.uk/
A full copy of the report "Problem Drug Users and their Experience of the Benefits System" can be found at http://research.dwp.gov.uk/asd/asd5/rports2009-2010/rrep640.pdf
Welfare Reform Drug Recovery Pilots
The Jobcentre Plus Districts selected were:
Birmingham and Solihull
Central London
Cumbria and Lancashire
Merseyside (and Halton)
West Yorkshire
The key features of the Welfare Reform Drug Recovery pilots were:
A new Additional Support programme which, on a voluntary basis, will provide integrated and personalised support for JSA and ESA claimants who are undergoing drug treatment.
A Treatment Allowance, in place of their ESA or JSA, payable on a voluntary basis to the individual as long as they maintain their treatment and engage with the Additional Support programme. In addition, the Regulations will remove some of the normal conditions of entitlement for benefit in order to allow drug users the time and space to focus on their recovery. For example, this will mean that those on JSA will not be required to sign on or show that they are actively seeking work.
Mandatory referral to Substance Related Assessments (SRAs) and a Treatment Awareness Programme with a specialist drug treatment provider for PDUs on JSA and ESA who are not already in treatment.
The power for the criminal justice system to supply data to aid both the identification of PDUs not in treatment, and the take-up of in-treatment support for those who are.
The power to refer to the mandatory SRAs where a Jobcentre Plus adviser has 'reasonable grounds for suspicion that problem drug use is a barrier to work'. Should claimants in this group refuse to attend two successive SRAs they can be required to take one or more drugs tests.
The power to impose a mandatory rehabilitation plan where the adviser is satisfied that drug use is a barrier to work, requires treatment but the customer has yet to engage with treatment services.
Published 17 June 2010