Radical reforms for police announced
Radical new programme of reform to re-establish the link between the police and the public, tackle organised crime and protect borders.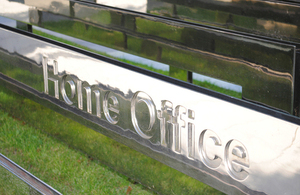 A radical new programme of reform to change the face of policing and re-establish the link between the police and the public, tackle organised crime and protect our borders was unveiled by the Home Secretary today.
Policing in the 21st Century: Reconnecting Police and the People sets out how the police service in England and Wales will become more accountable to the public and responsive to local people, more focused at a national level and more effective at tackling crime, as well as providing better value for money.
Key elements
Key elements of the new strategy include:
first election of police and crime commissioners to hold police forces to account and strengthen the bond between the police and the public in May 2012
a powerful new National Crime Agency to lead the fight against organised crime and strengthen our border security;
greater collaboration between police forces to increase public protection and drive savings
phasing out the National Policing Improvement Agency (NPIA)
cutting bureaucracy, removing restrictive health and safety procedures and freeing up officers' time; and
a clear role for everyone, including members of the public, in cutting crime through beat meetings, neighbourhood watch schemes and voluntary groups.
Prime Minister's statement
Prime Minister David Cameron said: 'It is vital that police officers are free to tackle the crime and antisocial behaviour that matters most to people, not tied-down by bureaucracy and form-filling.
'The fundamental reforms we are announcing today continue our work to deliver a police service that is visible and accountable to the very people it serves in communities up and down the country.
'By replacing invisible police authorities with directly elected police and crime commissioners, we can forge a direct link between the police and the public, ensuring that the public have a voice in setting police priorities and have the power to hold the police to account for keeping our streets safe and secure.'
Home Secretary's statement
Home Secretary Theresa May said: 'For too long, people have been faced with crime levels that are too high and a police service that has been too focused on Whitehall targets to really get to grips with what matters locally.
'Today, I am starting an ambitious programme of reform for policing in the 21st Century. At the strategic level, this includes a new National Crime Agency to strengthen the fight against organised crime and toughen policing at the border. On a local level, it will put local people at the heart of policing by giving them the power to elect Police and Crime Commissioners.
'I am also setting out how we will ensure police forces work more efficiently to strengthen the fight against crime while providing taxpayers with better value for money in these tough economic times.'
Consultation on policing
The publication of Policing in the 21st Century marks the start of a public consultation on key features of the government's reform programme, including directly elected police and crime commissioners who will hold forces to account, and in turn be directly accountable to the public. This will focus the police on local people's priorities rather than responding to what national politicians and civil servants think these priorities are.
This radical new approach will ensure that everyone has a say in how their area is policed, via their local commissioner, and that everyone plays their part in cutting crime within the Big Society. This includes more opportunities to get involved in keeping neighbourhoods safe through attending beat meetings and being members of Neighbourhood Watch. It will also provide more opportunities for citizens to volunteer with the police service, and within the wider criminal justice system.
The strategy also sets out how the government will tackle the bureaucratic burden on police officers by returning more responsibility to the police for charging in minor offences, scrapping unnecessary paperwork like the 'stop' form, and abolishing central targets.
The government will also work with the police service and the Health and Safety Executive to strengthen guidance on applying a common sense approach to health and safety. This will include scrutinising procedures that act as a barrier to intervening and recognising those officers who put themselves in harms way.
A new National Crime Agency will lead the fight against organised crime, protect our borders and provide services best delivered at national level.  It is envisaged that the new Agency will be made up of a number of operational 'commands', under the leadership of a chief constable.  This powerful new body will harness and exploit the intelligence, analytical and enforcement capabilities of the existing Serious Organised Crime Agency (SOCA) and the Child Exploitation and Online Protection Centre and better connect these capabilities to those within the police service, HM Revenue and Customs, the UK Border Agency and a range of other criminal justice partners
The policing landscape will be further simplified through the phasing out of the NPIA and clearer roles for the Association of Chief Police Officers (ACPO) and HM Inspectorate of Constabulary (HMIC).
Police and Crime Commissioners will be required to ensure that police forces work more efficiently by collaborating with each other across a much wider range of policing functions than at present, to strengthen public protection, but also ensure better value for money.
Many of the proposals will feature in the Police Reform and Social Responsibility Bill, to be published in the autumn.
Ahead of the launch of this Bill, the government is seeking the views of both the public and professionals across the criminal justice system on specific aspects of the reform programme.
Notes to editors
Read the full document and consultation
The public consultation will run until 20 September 2010. Responses will be published in due course.
IPSOS MORI research conducted in 2008 revealed that only 19 per cent of those polled disagree that 'a politician should be elected by local people to the Police Authority to represent concerns about crime and policing in their area'.
Cabinet Office research conducted in 2007 showed that only seven per cent of the public would go to their police authority if they are unhappy with their policing, while 68 per cent of people agree or strongly agree that there should be a person elected by local people to hold the police to account on behalf of the community.
Home Office research in 2009 found that only eight per cent of wards in England and Wales have a councillor on their police authority.
For more information contact Home Office press office on 020 7035 3535.
Published 26 July 2010