News story
International Day for the Remembrance of the Slave Trade
Race Equalities Minister Andrew Stunell commemorates the abolition of the slave trade.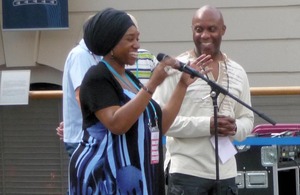 The minister visited the National Maritime Museum in Greenwich on 23 August 2012, for a day of song and historical talks, to mark the International Day for the Remembrance of the Slave Trade and its Abolition.
Following a tour of The Atlantic Worlds Gallery that recounts the personal histories of Toussaint l'Ouverture, Olaudah Equiano, Samuel Sharp and other leaders of resistance and rebellion, he joined in on a performance from gospel singers Ethnovox, which explored the significance of song in the history of resistance against slavery. The minister then joined a lecture given by historian Dr Hakim Adi on the transatlantic slave trade and African Resistance.
Race Equalities Minister Andrew Stunell said:
"The human suffering, caused by slavery and the slave trade are amongst the most dishonourable and abhorrent chapters in human history and it remains vital that we recognise the achievements of the abolition movement and ensure that the impact of the slave trade is not forgotten.
"It is a sad fact that, although slavery is outlawed internationally, millions of people are still living in conditions of slavery worldwide. Wherever, whenever and in whatever form slavery occurs, the government unreservedly condemns it and is committed to eliminating it."
UNESCO's General Conference in 1997 decided that 23 August should be designated 'International Day for the Remembrance of the Slave Trade and its Abolition'. The night of 22 to 23 August 1791, in Santo Domingo (now Haiti and the Dominican Republic) saw the beginning of the uprising that would play a crucial role in the abolition of the transatlantic slave trade. UNESCO chose this date as a reminder that enslaved Africans were the main agents of their own liberation.
Published 28 August 2012