News story
Quick thinking in the face of the enemy
A Military Cross winner from last summer's operational tour in Helmand province talks about his experiences.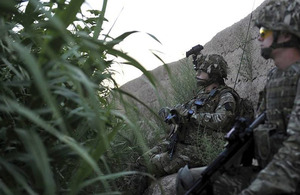 Never get into a game of who's first to blink or Patience with Lance Corporal Lawrence Kayser. You will lose.
The action for which he was recommended for a Military Cross came after he and his platoon had lain silently for 4 hours just metres away from the enemy, but, when action was called for, the 27-year-old was decisive and unwavering.
Lance Corporal Kayser, from the Royal Anglian Regiment, was part of a platoon airlifted deep into enemy territory in the Gereshk Valley to clear a notorious insurgent stronghold. For 10 days the platoon was involved in a series of ferocious battles, one of which could have ended badly if it hadn't been for Lance Corporal Kayser's incredible valour and determination.
On this occasion the platoon's task was to deal with a well-known enemy infiltration firing point. Lance Corporal Kayser said:
We knew they were in the area and had a habit of firing from the same place. It's a relatively flat place with very dense vegetation on either side of the river. The crops and the trees which are hundreds of years old restrict visibility and the compounds are muddled about with lots of low walls, tunnels and rat-runs.
Having set out 3 hours before dawn, the platoon took up position within a few metres of a compound wall by the line of a ditch. There, in complete silence, they waited for hours for the insurgents to walk along the track:
By dawn it was still quite comfortable, not too warm, and the birds had come out, but it was still quiet.
Then, a single insurgent popped his head over the wall:
He spotted all of us laid out in our positions. It was one of those chance things, he didn't know we were there, and we hadn't realised that they were asleep inside the compound. And that was it, it turned into a 10-metre fire fight.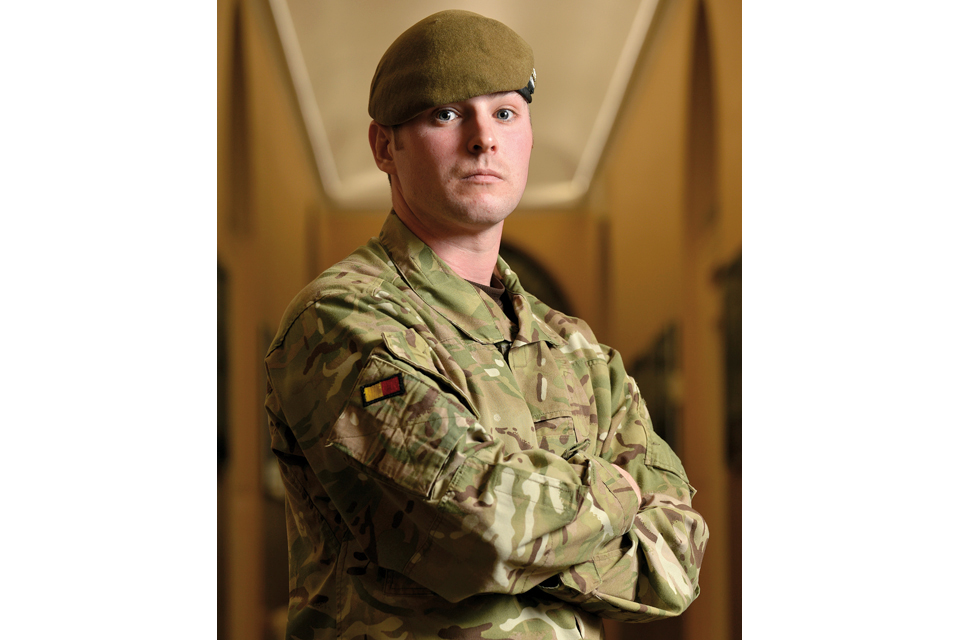 From previous tours, Lance Corporal Kayser had learned about Taliban tactics and was determined that the insurgents didn't get between his mates, causing confusion:
I have learned that if you are ambushed the best thing to do is to attack back because it takes their shock and awe off you and puts it right back on them. So I decided to get up and push through the doorway to make sure they didn't get away.
As he did this, from a doorway 5 metres to his right, there appeared another insurgent:
I think it was a surprise for both of us. As we saw each other we both raised our rifles and fired. I shot from the hip. He missed, but I clipped him and he dived back through the door.
With the adrenalin flowing, Lance Corporal Kayser chased after him, but, as he struggled through the narrow doorway in all his kit, a Taliban grenade landed at his feet:
I just saw something hit the ground like a stone about 5 metres away. My body armour took most of it and I got a face full of dust and dirt.
And, although he didn't realise this until later, his arm had also been hit by shrapnel from the blast. By this time another member of the platoon had caught up with him:
We decided we had to clear the rooms in the compound so I said 'let's go, let's do it'.
But when he had first leapt to his feet, had there been any moment of doubt in his mind that he was doing the right thing?
No. Everything just came off the top of my head. You see danger and you think of your friends. I knew if I didn't react the enemy could've come through and cut us in half.
Speaking of his award of a Military Cross he said:
I feel really humbled. My platoon is made up from the best members of the battalion. This is not just my medal - it's the whole platoon's, and I will say that to everyone.
This article is taken from a feature titled 'An Honour to Meet You', which has been published in the April edition of Defence Focus, where Ian Carr interviews 3 Service personnel who were recognised in the Operational Honours and Awards List published in March.
We will publish another award winner's experiences tomorrow.
Published 16 April 2013