World news story
Kenya: Application window for Queen's Young Leaders award 2017 now open
The search is on to find exceptional young people from across the Commonwealth to become the Queen's Young Leaders of 2017.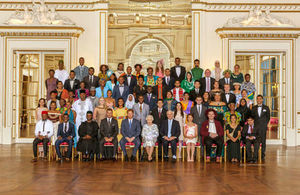 The Queen's Young Leaders Awards recognise and celebrate the achievements of young people aged 18-29 who are taking the lead to transform the lives of others and make a lasting difference in their communities. It aims to create new and exciting opportunities for young people, enabling them to step up as leaders and improve the lives of many others in the Commonwealth.
The winners, apart from receiving their award from Her Majesty The Queen at Buckingham Palace, will receive a bespoke awards package, which includes a year of training and mentoring from the University of Cambridge. They will also take part in a week-long residential programme in the UK, during which they will spend two days attending workshops at the University of Cambridge, meet with senior UK political and business leaders, and receive guidance from well-established social action projects.
The Queen's Young Leaders Programme was established by The Queen Elizabeth Diamond Jubilee Trust in partnership with Comic Relief and the Royal Commonwealth Society in recognition of The Queen's lifetime of service to the Commonwealth. Over the next three years the Programme will support thousands of young people. In addition to the Queen's Young Leaders Awards, the Programme will provide grants to support organisations in selected countries across the Commonwealth that work with young people to transform their lives.
Young people from all across the Commonwealth can apply or be nominated now to win an award and become a Queen's Young Leader of 2017. Applications close on Sunday 4th September 2016. Visit the website for more information. #TheSearchIsOn.
Published 24 August 2016