World news story
Queen's Birthday in Shanghai welcomes Archbishop and 400 guests
On 5 June, Queen's Birthday Party was opened by Acting Consul-General Shanghai Matthew Forbes with Archbishop and guests.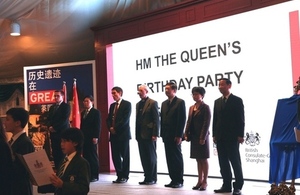 British Acting Consul-General Shanghai Matthew Forbes, Archbishop of Canterbury Justin Welby, Deputy Secretary-General of Shanghai Jin Xingming and other special guests attended the British Consulate General's 2015 Queen's Birthday Party on 5 June. Around 400 Guests enjoyed an evening themed on Magna Carta. Magna Carta was signed 800 years ago and remains a centrepiece of the UK's legal system. It has also influenced many jurisdictions across the globe.
Acting Consul General Matthew Forbes hosted the evening and paid tribute to Her Majesty the Queen who has dedicated her life to representing the United Kingdom on the International stage.
Mr. Forbes said:
This year we are celebrating 800 years since the signing of Magna Carta. This charter which was signed on 15 June 1215 provided for peace between King John and his barons and established certain rights for the people.

Specifically it established principals of justice for everyone and that no one should be imprisoned without a legal process. Magna Carta remains a key legal document to this day not only in the UK but in jurisdictions around the world.
The Archbishop of Canterbury, Justin Welby was the special guest of honour at the Queen's Birthday Party finishing off a busy week that has taken in visits throughout the region.
Other guests included Chinese dignitaries, Chinese and British business leaders including professional services industry representatives, the diplomatic corps and members of the British community in Shanghai.
A David Bailey portrait of Her Majesty the Queen was unveiled by Catherine Raines, UKTI China, along with Joss Croft, VisitBritain and Mr Fang Jian from Linklaters LLP.
Mark Logan, Head of Communications thanked Fang Jian by commenting:
As one of the UK's premier global law firms and a proud sponsor of the British Library's celebration of the 800th anniversary of Magna Carta, it is fitting that they are our partners today.
The growth of legal services has led to a significant increase in the sector's contribution to the UK economy, which rose 9.4% year-on-year in 2013 to £22.6bn or 1.6% of GDP. The sector's contributions have grown by around 65% over the decade to 2013, with its net export surplus also doubling over the same period to £3.1bn.
Matthew Forbes also introduced the new British Consul General to Shanghai John Edwards. John will be taking up his Post in the summer of 2015.
John is joining the Consulate General at a very important point in UK China relations. During Premier Li Keqiang's visit to London last year he agreed with the Prime Minister that 2015 would be designated the Year of UK China Cultural Exchange. Many joint events have been taking place including The GREAT Festival of Creativity, here in Shanghai which was opened by the Duke of Cambridge, Prince William in March. This was the first senior royal visit to China since the Queen in 1986. Later this year we will also see the State Visit to the UK of President Xi Jinping the first such visit for 10 years.
The Senior School Choir of Wellington College International Shanghai was invited to sing the national anthems. They also performed two further pieces, Non Nobis Domine and Sumer Is Icume, in celebration of HM the Queen's Birthday.
Published 9 June 2015