Queen thanks Armed Forces for Jubilee Muster
Her Majesty The Queen has written a letter of thanks to the Armed Forces for the Parade and Muster for her Diamond Jubilee.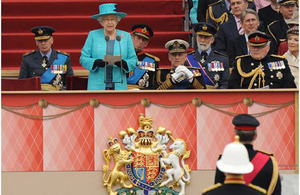 The full text of her letter can be found below and is sent along with best wishes from the Chief of the Defence Staff, General Sir David Richards.
In her letter, Her Majesty states:
I send my thanks, admiration and pleasure for the Parade and Muster for my Diamond Jubilee and my congratulations to all who took part including the bands for their music, and those in the very impressive fly past.
It was a very moving tribute from all three Services and the Iarge watching crowds from far and wide reflect the interest and importance attached to the Armed Services of today.
ELIZABETH R.
Published 23 May 2012