Press release
Quango clampdown saving billions for the taxpayer
The government is now more than halfway through the first wave of its quango reform programme, saving at least £1.4bn for the taxpayer.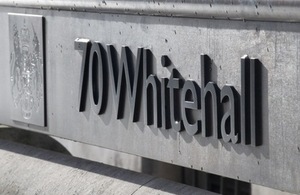 22 August 2012
The government is now more than halfway through the first wave of its quango reform programme with the closures made so far set to save at least £1.4 billion for the taxpayer in this Parliament, the Minister for the Cabinet Office announced today.
 
The Cabinet Office has driven reforms which have enabled government departments across Whitehall to shut down a total of 106 of their public bodies so far, and additionally enabled more than 150 bodies to be merged into fewer than 70. This has put the government well on track to save at least £2.6 billion by 2015 - the equivalent of £150 for each working household in the country.
 
In a recent report, the Public Accounts Committee called the government's reforms of the quango landscape 'the largest restructuring of public bodies for many decades' and said it would have a substantial and lasting impact on how public money is spent. Today's announcement shows that rapid progress is being made and the benefits are already being felt.
 
The closure of these public bodies will save taxpayer money, increase accountability, and improve public services. This programme forms a crucial part of the wider Civil Service Reforms currently underway. 
 
Minister for the Cabinet Office Francis Maude said:
In 2010 we inherited a bloated quangocracy that had spiralled out of control. Not only were these unaccountable bodies costing the taxpayer billions, but they were duplicating bureaucracy.  
"In the past, people just talked the talk on quango reform. We took swift action by legislating to enable departments to deliver long-overdue reforms by closing down unnecessary public bodies. The changes we have already made will save £1.4 billion, but by 2015 the government will save the taxpayer a total of more than £2.6 billion - that's more than £150 per working household.
 
"We have already closed 106 bodies and merged 150 bodies into fewer than 70, but we are only halfway through the first phase of our programme. Once we have completed the planned closures and mergers, we will continue to review all remaining quangos to ensure that never again will we end up with so many of these vast bureaucratic and unaccountable bodies.
 
"We are more transparent about quangos and who works for them than any government before. And our Civil Service Reform programme is ensuring that remaining quangos are more efficient and effective.  But let's be clear when it comes to shrinking and streamlining the quango state there's plenty more to come.
Today's progress update follows a root and branch review of the public body landscape in 2010. Since then, some of the biggest bodies have closed, including:
 
Regional Development Agencies - by 2010 RDAs were costing the taxpayer approximately £2 billion per year, yet the economic disparity between the regions had continued over the last decade. Their closure will save the taxpayer billions and ensure that local economies are provided with tailored support to boost growth.  
Schools Bodies - 11 school bodies have now been closed. By making these closures and bringing a further seven bodies in house, the government is restoring accountability by ensuring schools are the responsibility of ministers. Closing these bodies allows resources to be focused on the front line, and sweeps away unnecessary and complex administration for schools.
We have also completed the abolition of bodies to restore accountability to where it should rest, either with elected ministers or directly with the public, including:
 
Canals and Waterways - by moving responsibility for our canals and waterways to the recently launched Canal & River Trust, we have replaced a quango with one of Britain's largest charities. As government moves out the way, volunteers and local communities can take more responsibility for these valuable national assets.  
Child Support the government has taken direct responsibility for the Child Maintenance and Enforcement Commission (CMEC), bringing it back into the Department for Work and Pensions. The Child Support Agency was a bureaucratic and costly organisation with a history of problems. The reforms will ensure that it is once again the responsibility of ministers to improve this service for the families that rely on it.  
The Civil Service Reform plan published earlier this summer affects arms-length bodies like quangos, ensuring that improvements in accountability, efficiency and the quality of public services are embedded throughout the wider public sector. 
Notes to editors
The Cabinet Office-led review in 2010 has enabled departments to close over 106 quangos - which is over half way to the current target of 204 abolitions. Other reforms have taken place, which include more than 150 bodies being merged into fewer than 70. The public bodies landscape will be reduced by over 300 bodies by the end of the Spending Review period in 2014-15.

The Cabinet Office has driven the reforms to the public bodies landscape, enabling departments to close down or merge the public bodies for which they are responsible. The Public Bodies Act provided the legal framework that allowed the government to carry out its public bodies reforms. The Act enables the reforms to public bodies to be implemented where legislation is needed. Some bodies that are to be reformed were set up in legislation, so new powers were needed to be able to abolish or merge them, transfer or devolve their functions, or reform the way they operate.

The Public Bodies Act is an enabling act which means it will not itself make any changes to public bodies. The Act: 
created a legal framework that enables government departments to implement the majority of public bodies reforms that require legislation and that are not already covered in other departmental bills; 
created legislative powers which give ministers the ability to abolish or merge bodies; modify a body's constitutional or funding arrangements; or transfer its functions elsewhere; and 
gave secretaries of state the necessary powers to take forward changes to their bodies in secondary legislation.
The government will make net savings of at least £2.6 billion from the administrative costs of public bodies in the scope of the review over the Spending Review period. This is based on information provided by departments in March 2011, using methodology developed in line with the Spending Review. This savings figure is net of the expected costs of delivering our reforms which we estimate will be between £600m and £900m.

The reform of public bodies forms a key part of wider Civil Service reforms. For more information and for a copy of the Civil Service Reform plan visit: www.civilservice.gov.uk/reform
Published 22 August 2012