Press release
Quality nurseries urged to make full use of flexibility
Elizabeth Truss speaks about improving teaching practices in early years education and giving more flexibility to nurseries.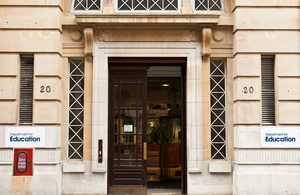 Fewer than 1 in 3 nurseries and early years providers take advantage of flexible arrangements allowing them to employ graduate leaders, a conference heard today.
Teachers can currently teach up to 13 children aged 3 and 4 years. But that ratio falls to 1:8 when teachers are not present. Employing better qualified staff means young children get better quality early education that helps them to prepare for school.
The government agrees with Ofsted that the way to raise quality within the current funding envelope is for more nurseries to hire graduates and use the larger group sizes and structured methods that this permits. This is what happens in France where salaries and qualifications are higher but funding is the same as England.
Elizabeth Truss, Education and Childcare Minister, said that providers which do make use of more flexible arrangements alongside graduate leaders get better outcomes for young children. Highly qualified staff with larger groups of children means young children get more stimulating and structured learning which feeds their curiosity.
She also said that what was evident from early years settings in France was the emphasis they placed on encouraging socialisation through structured group sessions. Eight 2-year-olds were happily able to sit together and watch each other's behaviour while the teacher led the session. Free flow play, a child-centred approach where individual children choose what to do, is often considered to be a requirement in English settings. This is a myth and there are no reasons why structured teacher-led sessions can't also be the norm here.
Elizabeth Truss said:
Early education, by providing a valuable foundation for a young child, goes on to have a profound effect on that child's future for decades to come.

Larger groups of children led by teachers are the gold standard. At every age we have studied, there is a benefit to involving graduates in education, and particularly so for pre-school age children.

Highly qualified staff help to stimulate young children's natural curiosity and prepare them for school. They provide structured learning that engages and develops young minds.
The minister also said there is not a contradiction between playing and structured learning. For example, Alexandra Nursery School in Bolton teaches 3- and 4-year-olds counting through songs. Young children also count blocks when building a wall and count ingredients when making gingerbread men. After this start, children are known to make significant progress when they leave nursery.
Elizabeth Truss also:
welcomed Ofsted's plans for a more rigorous inspection regime for the early years, which was announced today
explained the strong focus on structured learning in France, where particular attention is given to social skills and manners
said that Teach First early years trainees will begin working with children as young as 3 from September 2014
Notes to editors
Elizabeth Truss was addressing '2-year-olds: policy and practice', Nursery World's conference on early education in west London.

The full text of the speech is available in the announcements section.
DfE enquiries
Central newsdesk 020 7783 8300
General enquiries 0370 000 2288
Published 19 April 2013