News story
Pyrotechnics safety warning for football fans
Policing minister: You're putting supporters' safety at risk.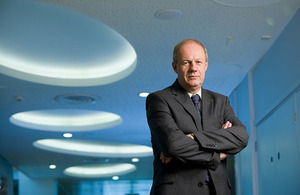 Football fans who smuggle flares and smoke bombs into matches are putting the safety of fellow supporters at serious risk, Policing Minister Damian Green said today.
The devices – often manufactured for legitimate military, maritime or transport purposes – can burn as hot as 1,600 degrees celsius for as long as an hour.
But they are increasingly being illegally ignited among supporters – and even thrown onto pitches during football matches.
Any burns caused by a flare are likely to be extreme. Earlier this year, a 14-year-old boy was killed by a flare fired by Brazilian supporters during a match in Bolivia.
Policing Minister Damian Green said:
Football fans might see images of football grounds in other parts of Europe full of smoke and light caused by pyrotechnic devices and think that they create a good atmosphere – but they do not.

Flares are very dangerous and can cause severe injuries.

We are very lucky in British football that no one has been seriously injured or killed by a flare for a long time but the fatal incident in Bolivia this year showed just what might happen.

I am sure the majority of fans who illegally smuggle pyrotechnic devices into matches do not fully understand the consequences – but they could end up leaving someone with life-changing injuries, as well as finding themselves with a criminal record and banned from football.
Too hot to handle
It is very difficult to extinguish flares once lit because they often contain burning metals. Even after they stop burning, they will be too hot to handle for some time and could still set fire to flammable items like litter.
Smoke generators also become extremely hot and can cause serious burns to people attempting to move them.
It is advised that flares and smoke bombs are covered in sand for at least 30 minutes before being taken away.
Serious injury
National policing lead on football policing Deputy Chief Constable Andy Holt said:
The increase in the use of pyrotechnics at football matches is a concern for the police service because they present a serious risk to supporters. If the trend continues, it could cause a serious injury or worse.
Sports Grounds Safety Authority chief executive Ruth Shaw said:
The Sports Grounds Safety Authority is concerned by the number of flares and smoke bombs being seen at football grounds.

Some fans may believe they contribute to the atmosphere, but they are potentially dangerous devices that present unnecessary risks to both spectators and to the stewards who have to deal with them.
Published 16 August 2013