Press release
Pubs showcased as part of Best of British
Community Pubs Minister Brandon Lewis unveils a new campaign showcasing pubs as part of the best of British.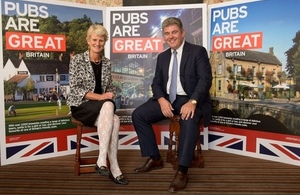 Community Pubs Minister Brandon Lewis today hailed the local pub as another reason to celebrate the GREAT in Great Britain, unveiling a new campaign showcasing pubs as part of the best of British.
From old-English pubs, to gastro pubs to the new wave of community owned and run pubs the local pub is a vital part of our economic, social and cultural past, present and future. They pack a powerful economic punch, with each pub contributing around £100,000 to its local economy every year.
It's not just the regulars who treasure our pubs. Tourists rate our pubs as one of Britain's best of British experiences saying that when visiting a pub they are getting a real slice of the British way of life. Today this was recognised by the GREAT Britain campaign which highlights the very best of the UK - from business to sport to culture - to drive inward investment and tourism.
Sharing a pint with pub goers at the local Phoenix pub in Whitehall, Brandon Lewis unveiled 3 new poster designs showing how the pub is a quintessential part of British community life.
With the announcement in the Budget to cut a penny off a pint and the abolition of the beer duty escalator introduced by the last administration which increased the cost of a beer by 2% above inflation every year, the campaign comes amidst a great year for British pubs. April brought community pubs month and a CAMRA campaign to list your local as an asset of community value. In the same month The Ivy Head in Nunhead was the first pub to come into community ownership using the Community Right to Bid.
Community Pubs Minister Brandon Lewis said:
The Great British pub is recognised around the world as a quintessential part of British culture. In Britain we have known for hundreds of years just how valuable our locals are. Not just a place for grabbing a pint but also to the economies and communities of those they serve.

I am delighted that in this excellent year for community pubs, the local is now officially showcased as part of the best of British in the GREAT campaign. Here's to Great Britain and our Great British pubs.
This government wants to see community pubs thriving everywhere and the government has:
called time on the beer tax that has raised the cost of a pint by 42% since 2008 and put unnecessary pressure on community pubs and their loyal patrons
cut 'a penny off a pint' - news welcomed by the industry and campaigners, who have spoken out against the unpopular beer duty escalator which increased the cost of a beer by 2% above inflation every year, or around 6 pence
doubled small business rate relief from £6,000 to £12,000 until March 2014 and the Localism Act has made it easier for firms to claim small business rate relief
given generous National Insurance Contribution relief for employers, wiping away the first £2,000 of their employer National Insurance Contributions - up to 450,000 small businesses will no longer pay national insurance contributions
reduced corporation tax to 20%, helping small and medium size pubs
launched a new phone line with the Plunkett foundation giving communities access to information, expertise, and the tools they need to convert their local pub into a co-operative enterprise
created a fund of £150,000 for 'Pub is the Hub' which supports community pubs to innovate and expand their services to offer more to the local community
communities can use the Community Right to Bid to 'pause' the sale of treasured local assets such as pubs, to give communities the time to develop a bid to buy it.
Notes to editors
The British Beer and Pub Association have stated that the announcement to freeze the beer tax would protect 10,000 jobs, particularly among people aged under-25 who account for 45% of the industry's workforce.
Further information on the Community Right to Bid and how to list your local can be found on My Community Rights
Published 29 July 2013