Publication of the Independent Panel on Forestry report
The Independent Panel on Forestry have published their final report.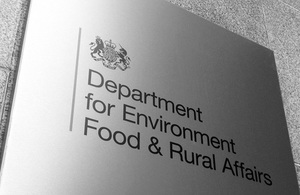 The final report is available to view online : www.defra.gov.uk/forestrypanel/reports/
Responding to the report, Environment Secretary Caroline Spelman said:
"I'd like to thank Bishop Jones and all the members of the panel for their hard work to produce this report on the future direction of forestry policy.  
"Our forests will stay in public hands. We will not sell the public forest estate.
"We'll be talking to all those who are passionate about our forests to decide how we will manage our forests for the future."
Forestry Commission Chair Pam Warhurst said:
"The Panel has worked tirelessly over the last 15 months to take on board a comprehensive range of views, culminating in this landmark report for forestry."
"Working with Defra colleagues on our response to the report, we need to make sure we do justice to this effort - for the businesses that provide jobs locally, for the wildlife that relies on healthy woodlands, and for the communities that have such strong bonds with the nation's forests."
Published 4 July 2012