Public urged to keep watch as greatest risk period for the tree pest oak processionary moth begins
Oak processionary moth enters greatest risk period as caterpillars emerge between June and August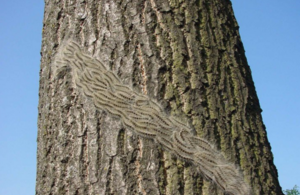 The Forestry Commission has today (11 May) urged the public to report sightings of oak processionary moth caterpillars. We are now entering the greatest risk period as the caterpillars emerge between June and August to feed before turning into adult moths.
Oak processionary moth, which is a tree pest, was first identified in London in 2006 and has since spread to some surrounding counties in the South East of England. Its caterpillars and their nests contain hairs which can cause itchy rashes, eye and throat irritations, and should not be touched under any circumstances.
Oak processionary moth caterpillars also feed on the leaves of several species of oak trees. This can cause the trees to lose their leaves, negatively impacting their growth, and become more vulnerable to other stresses, like drought.
Andrew Hoppit, Oak Processionary Moth Project Manager, said:
As we enter the greatest risk period for Oak Processionary Moth, it's important that those living in affected areas understand the health risks so that they can be vigilant when enjoying outdoor spaces.

The Forestry Commission has a whole host of information online that can be used to identify the moth, simply visit Managing Oak Processionary Moth in England. If you spot the pest, report the sighting via our TreeAlert portal. Alternatively, you can email opm@forestrycommission.gov.uk or call 0300 067 4442.
Professor Nicola Spence, UK Chief Plant Health Officer, said:
Our oak trees are an iconic part of our British landscape. Reporting any sightings of Oak Processionary Moth to the Forestry Commission will both minimise the pest's spread and reduce the damaging impact it poses to tree health.

The caterpillars and their nests can also cause irritation when touched by members of the public. As such, I would advise that those living in London and the surrounding areas avoid the pest.
A Government programme to manage OPM has been in place since 2012. Over the last five years, £10 million has been invested into oak health, including the management of oak processionary moth, as well as research to develop novel control techniques and new policy responses.
In March, The Forestry Commission announced an update to the operational zones and boundaries to manage the spread of OPM. In response to government surveillance in 2022, the Established Area in which OPM is established, and the Buffer Zone in which an annual programme of OPM management led by the Forestry Commission takes place, were expanded.
Following these changes, there will also be new regulation coming into force on 24 May permitting the movement of large oak trees and trade within the Established area and Buffer zone, provided certain biosecurity requirements and movement restrictions are met. For more information on the new changes visit GOV.UK.
Today's announcement comes during National Plant Health Week which aims to raise public awareness and engagement on how to keep our plants healthy. By identifying threats such as pests and diseases, we protect the benefits plants provide to the public, to wildlife, the environment and our economy. More information can be found on the Plant Health Action.org website.
How to identify Oak Processionary Moth caterpillars
Nests are typically dome or teardrop-shaped, averaging the size of a tennis ball. They are white when fresh, but soon become discoloured and brown. The caterpillars have black heads and bodies covered in long white hairs which contain proteins which can cause itchy rashes, eye, and throat irritations. They can also occasionally cause breathing difficulties in people and pets, so should not be touched under any circumstances.
For more information, visit 'Managing Oak Processionary Moth in England'.
Further information:
Wider background:
Further information on support for those affected by Oak Processionary Moth:
Last year, Defra and the Forestry Commission launched a new grant to support local communities to respond to OPM in the Established Area within London and the South-East.
It pays for a facilitator to form a group of land managers with oak trees on their land, create an OPM management plan for the group, as well as the hire of contractors to survey their oak trees for OPM.
In the coming weeks we will be introducing a new biosecurity capital item within the Tree Health Pilot's grant offer for OPM to fund signage and biosecurity items including boot cleaning equipment and red tape/posts for cordoning off areas.
For more information and details of how to apply see Grants for oak with oak processionary moth (OPM) - GOV.UK (www.gov.uk)
Published 11 May 2023