Public urged not to send Xmas mail to theatre
Generous members of the public who show their support for the Armed Forces by sending welfare parcels to Afghanistan are being urged to stop and think and consider alternative and more effective ways they can back the troops at Christmas time.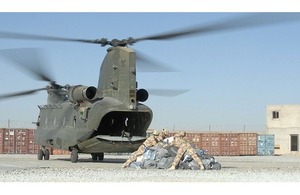 The plea comes direct from military personnel at the sharp end of operations, and their message is simple: while they really appreciate support from back home, the mountains of well-intentioned mail cause genuine difficulties which outweigh the benefits.
For one thing, getting all the goodwill parcels to forward operating bases means that additional resupply flights and convoys have to be laid on, which places Service personnel at additional risk in what is already a difficult and dangerous operating environment.
Every time an additional convoy is laid on, more troops are put at risk of enemy attack. And that means that the delivery of eagerly anticipated personal messages from family and friends can be seriously delayed.
In a genuine attempt to give the troops a treat at Christmas time, often the types of items included in many welfare parcels are either already readily available in theatre or are simply not appropriate for the Afghan environment, and therefore can go to waste.
As the amount of post traditionally increases in the run-up to Christmas, personnel at Camp Bastion hope to highlight the unintended consequences of the public's generosity - and urge them to bring a little cheer to the front line in other, much more effective, ways.
Major John Leeper, Officer Commanding the Operation HERRICK Postal and Courier Squadron, based at Camp Bastion, explained the problem:
For personnel deployed overseas, personal mail from loved ones is very important. Unfortunately though, the system can be completely overwhelmed by the public's generous donations, which results in mail from family and friends being delayed.

It would be so much better if members of the public could channel their goodwill into making a donation to one of the MOD's recommended Service charities.

These charities send out packages - containing items the troops really want and have requested - in a co-ordinated way which does not hold up personal mail, or put unnecessary pressure on resources.
Lieutenant Colonel Gareth Baker, Staff Officer with responsibility for Operational Welfare at the Ministry of Defence, added:
I have served in Afghanistan myself and I have been the recipient of several goodwill parcels from members of the public. There is no denying that it can provide a morale-boost to know that people back home are thinking of you.

But what the troops on the ground really want is to receive their personal mail - the letter from their spouse or gift from their children - and the sheer number of welfare parcels in the system causes serious delays to those all-important personal items.

All of us in the Armed Forces are enormously grateful for the generosity of people who want to support us. But packages from strangers can never make up for the delay they cause to mail from our loved ones.

The message is absolutely clear: if you wish to show your support for the troops, the most effective way of doing so is to support an official registered Service charity, such as SSAFA Forces Help.
Minister for Defence Personnel, Welfare and Veterans, Andrew Robathan, said:
I am delighted that so many members of the public are keen to show their support for our Armed Forces, at Christmas and all year round.

But some acts of charity have unintended consequences - unsolicited letters and parcels can overload the supply chain and prevent our deployed personnel from receiving mail from their families.

Rather than sending their own letter or parcel, I would encourage people to consider making a donation to one of Britain's excellent Service charities.

They might also consider 'uk4u Thanks!' - a charity that provides Christmas gifts to deployed servicemen having pre-positioned the presents many months in advance by utilising occasional pockets of spare capacity.

Once again, I would like to say a huge thank you to the British public, on behalf of the MOD and the Armed Forces, for their incredible ongoing support for our servicemen and women.
There are many different ways in which people in the UK can thank Forces deployed overseas for their work and commitment, and support practical efforts to make their free time more enjoyable and comfortable.
The Ministry of Defence is very keen to ensure that they are able to do so in ways which do not cause problems for the very people at whom the help is directed.
For that reason, helpful advice and a list of recommended Service charities which accept public donations to assist deployed personnel and their families back at home can be found on the MOD website - see Related Links.
Some of these funds send welfare parcels to Afghanistan - but they do so in consultation and partnership with the Armed Forces in a co-ordinated way which does not put undue pressure on resources.
Soldiers, Sailors, Airmen and Families Association (SSAFA) Forces Help Operational Welfare Fund, set up jointly by SSAFA Forces Help and the MOD, delivers items for which troops on the ground have bid, to make their lives a little more comfortable.
More details on this charity can be found via their website - see Related Links.
Alternatively, telephone donations can be made by calling 020 7463 9225 and cheques (made payable to 'SSAFA Operational Welfare Fund') can be sent to:
SSAFA Forces Help
FREEPOST Plus RSGZ-AYEK-RHGA
London
SE1 2BR
Another of the charities is uk4u Thanks! which delivers a Christmas box of practical gifts and fun treats to every soldier, sailor and airman deployed overseas - in Afghanistan and elsewhere - and those in hospital and recovery centres in time for 25 December.
Its parcels are delivered via the supply chain, meaning there is no impact on the mail network. Although the charity benefits from corporate sponsorship, it also needs donations from the public to continue its work bringing Christmas cheer to thousands of personnel.
Published 16 September 2011