Public urged not to send unsolicited Christmas mail to troops
The MOD expresses its gratitude for the support and generosity many members of the public show in this period but is reminding them that the…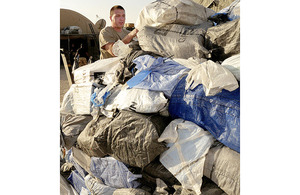 The MOD expresses its gratitude for the support and generosity many members of the public show in this period but is reminding them that the high volumes of unsolicited gifts and packages from the general public expected during the Christmas period, although well-intentioned, increase pressure on the in-theatre postal system and logistic supply chain. Personal mail from family and friends can therefore be significantly delayed.
The additional requirement for helicopter flights and road convoys to move such parcels also takes these resources away from their primary tasks essential to supporting deployed personnel.
Therefore, with 100 days to go until Christmas, the MOD is launching a campaign to remind members of the public how to express their support other than by sending unsolicited gifts and packages.
Details of the many ways to do this, including making donations to Service Charities, can be found on the MOD website - see Related Links.
As in previous years, all Service personnel on operations over Christmas (and those who are hospital in-patients) will receive a seasonal gift box from a MOD-endorsed charity (uk4u Thanks!).
The charity uses free space in the existing supply chain to deliver the boxes in time for Christmas to personnel all round the world, including those on ships and in submarines. These boxes are provided in addition to the existing Deployed Welfare Package.
The enduring free postal arrangements for families and friends, funded by Royal Mail and the MOD, are unaffected. Packages up to 2kg in weight may be sent free of charge at any time through the Royal Mail and the British Forces Post Office to personnel in eligible ships and theatres.
Published 16 September 2010