Public urged not to send Christmas mail to deployed troops
The kindness and generosity of individuals and groups who send gift packages out to operational theatres are greatly appreciated. However, the…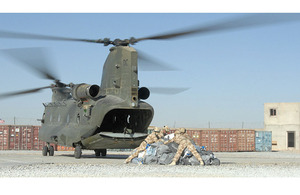 The kindness and generosity of individuals and groups who send gift packages out to operational theatres are greatly appreciated. However, the sheer volume of mail delays the mail sent by family members and loved ones and the unintentional inclusion of inappropriate items cause serious difficulties for those charged with distributing all supplies, including post.
Major John Leeper, Officer Commanding the Operation HERRICK Postal and Courier Squadron, based at Camp Bastion, explained:
For personnel deployed overseas, personal mail from loved ones is very important. Unfortunately though, the system can be completely overwhelmed by the public's generous donations, which results in mail from family and friends being delayed.
The huge and unmanageable number of welfare parcels sent by well meaning members of the public, particularly in the run-up to Christmas, causes real difficulties.
While all of us recognise, and are grateful for, the public's generous intentions, it would be so much better if members of the public could channel their goodwill into making a donation to one of the MOD's recommended Service charities. These charities send out packages - containing items the troops really want and have requested - in a co-ordinated way which does not hold up personal mail, or put unnecessary pressure on resources.
The volume of mail arriving at Camp Bastion for onward distribution causes three problems:
Personal mail sent to deployed personnel by their loved ones can become significantly delayed amidst all the other items from members of the public. Receiving a letter or a gift from a family member or loved one is very important for morale, and for the peace of mind of families back home. While unsolicited parcels are without doubt gratefully received, the delays they inevitably cause to the much more valued personal mail are considerably less welcome.

Delivering goodwill parcels to forward operating bases needs additional helicopter re-supply flights and road convoys which can place Service personnel at additional risk in what is already a difficult and dangerous operating environment. Every time an additional convoy is laid on, more troops are put at risk of enemy attack.

Many of the items included in the public's welfare parcels are either already readily available in theatre or are simply not appropriate for the Afghan environment, and therefore can go to waste.
The Ministry of Defence is keen to ensure that members of the public who wish to support British Service personnel are able to do so in a way which does not cause problems for the very people at whom their generosity is directed.
Many individuals and groups are at this time planning how they will show their support for the Armed Forces at Christmas, and for this reason the MOD has drawn up a list of recommended Service charities, which accept public donations to assist deployed personnel, and their families back at home.
Some of these funds send welfare parcels to Afghanistan, but they do so in consultation and partnership with the Armed Forces, and in a co-ordinated way which does not put undue pressure on resources. This list of charities can be found at the Support for Our Service Personnel page at Related Links.
The latest Royal Mail recommended posting dates for letters (Air & Surface) for Christmas 2011 are:
Within UK
1st Class - Tue 20 Dec 11
2nd Class - Fri 16 Dec 11
HM Ships (BFPO numbers 200 - 499)
1st Class - Fri 2 Dec 11
Surface - Fri 2 Dec 11
UK to BFPO (excluding HM Ships, Op HERRICK, Op KIPION & BFPO 622) - Thu 15 Dec 11
UK to Op HERRICK, Op KIPION & BFPO 622 - Fri 2 Dec 11
For more information see Related Links.
Published 1 December 2011