News story
Public to get a more detailed picture of how crimes are investigated
A new crime statistics framework which will better reflect how the police respond to reports of crime will be launched in the New Year.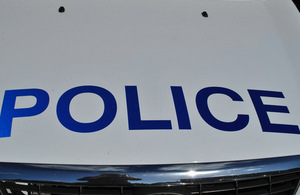 Under the current system, 70 per cent of crimes are recorded as 'undetected', giving some victims and the public the wrong impression that nothing was done by police even though full investigations were carried out.
But the revised recorded crime outcomes framework – which will come into force in Humberside on 1 January and be introduced across the rest of England and Wales from April – will change that.
Policing Minister Damian Green said:
Recording offences as 'undetected' leaves victims feeling neglected and police investigations misunderstood — it does not properly reflect police work and that is why we are scrapping it.

By introducing new categories, the police will be able to demonstrate the hard work they do and increase public transparency in policing.
The 'undetected' category will be replaced by a set of more detailed explanations of how the crime was dealt with.
Detailed explanation
This might be particularly useful, for example, when police deal with allegations of historic sex abuse where the alleged perpetrator has died or is too ill to stand trial, or a key witness does not want to give evidence.
Previously these cases would be recorded as 'undetected' – now there will be a more detailed category for them.
This broader set of information can then be used by the public to hold the police to account and as a basis for better engagement between communities, the police and PCCs.
Hold police to account
By giving every crime an outcome, it will help the public understand – and therefore support or challenge – police activity. Four police forces, including Humberside, trialled the new framework during 2013.
At present, police forces are only required to provide data on "sanction detections" such as charges, cautions and penalty notices. Implementation will be phased to give forces enough time to make necessary changes to their IT systems. Some forces will provide data from April 2014 and the government will require all forces to provide data by April 2015. Data for all forces will be published as National Statistics from 2016-17.
The revised recorded crime outcomes framework reads as follows:
Charged / summonsed
Cautioned
Taken into consideration
The offender has died (all offences)
Penalty notices for disorder
Cannabis warning
Community resolution
Prosecution not in the public interest (CPS) (all offences)
Formal action against the offender is not in the public interest (police)
Prosecution prevented – named suspect identified but is below the age of criminal responsibility
Prosecution prevented – named suspect identified but is too ill (physical or mental health) to prosecute
Prosecution prevented – named suspect identified but victim or key witness is dead or too ill to give evidence
Evidential difficulties victim based – named suspect not identified: the crime is confirmed but the victim either declines or is unable to support further police investigation to identify the offender
Named suspect identified: victim supports police action but evidential difficulties prevent further action
Named suspect identified: evidential difficulties prevent further action; victim does not support (or has withdrawn support from) police action
Prosecution time limit expired: suspect identified but prosecution time limit has expired
Investigation complete: no suspect identified. Crime investigated as far as reasonably possible – case closed pending further investigative opportunities becoming available
Published 30 December 2013