News story
Public sector pay awards for 2014-15
The government has today set out the pay awards for over one million public sector workers in line with the policy of a one percent pay rise in 2014-15.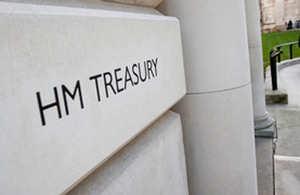 The following independent Pay Review Bodies (PRB) were asked to examine how a one percent pay increase could be applied across the relevant public sector workforces: - Armed Forces Pay Review Body (AFPRB) - NHS Pay Review Body (NHSPRB) - Doctors' and Dentists' Review Body (DDRB) - Prison Service Pay Review Body (PSPRB) - Senior Salaries Review Body (SSRB)
The government response to the Pay Review Bodies' recommendations confirms that all but the most highly paid public sector workers will receive a pay increase in the next financial year.
Chief Secretary to the Treasury, Danny Alexander, said:
Public sector workers make a vital contribution to the effective delivery of public services. We need to continue with public sector pay restraint in order to put the nation's finances back on a sustainable footing.
We are delivering on our commitment to a one percent pay rise for all except some of the most senior public sector workers.
The pay allocations by workforce:
Armed Forces: accept recommendations for a one percent increase.
NHS staff and salaried doctors: all except the most senior managers will receive one percent additional pay. Those getting a progression pay increase (incremental pay increases for time served in a role typically worth over three percent) will only receive this. This is around 600,000 people (over 50 percent) of NHS staff. Anyone not getting progression pay will get a one percent payment instead. However, about 400 'Very Senior Managers' in the NHS do not receive progression pay and will not receive a one percent payment. The total policy will save over £200 million in 2014-15 and over £400 million in 2015-16, which will be reinvested into the health service and help protect jobs.
Contractor doctors and dentists: will receive a one percent pay increase.
Police & Crime Commissioners: will not receive a pay increase.
Senior Civil Servants: departments given the flexibility to determine how to allocate a one percent award across the workforce.
Prison Service: accept recommendations for a one percent pay increase for the majority of prison officers.
Judiciary: accept recommendations for a one percent pay increase.
The public sector paybill makes up over half of departmental resource spending, therefore continued pay restraint remains central to the government's deficit reduction strategy. Public sector pay restraint has already helped protect thousands of jobs and frontline services.
Published 13 March 2014