Public invitation to attend unveiling of Mahatma Gandhi statue in Parliament Square
Ceremony for the the historic new statue of Mahatma Gandhi in Parliament Square on 14 March will be open to all.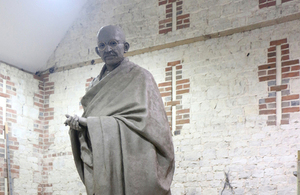 Everyone is welcome to join leaders of the UK and Indian Governments and community leaders as the first to see the new statue of Mahatma Gandhi in Parliament Square. The statue of the great man will be unveiled by Indian Finance Minister Shri Arun Jaitley in London's Parliament Square on Saturday 14 March.
The ceremony will feature live music and personal reflections from Mahatma Gandhi's grandson, and former Governor of West Bengal, Shri Gopalkrishna Gandhi.
Doors to the event area will open at 09:15 and the event will take place between 10:00-11:00, during which time the public will be able to view the bronze statue in place at Parliament Square.
Find out more about the #GandhiStatue's creation in our Gandhi Immersive
Discover more about Gandhi's legacy and time in the UK via our Gandhi Storymap
If you attend the event, you can share your pictures on Twitter by using #GandhiStatue and share what Gandhi means to you by using #GandhiLegacy.
Access to the general public viewing area is available on a first come, first served basis and space is limited. We recommend that you arrive in ample time. Gates will open at 09:15.
Event timings
09:15 Gates open
10:00 Ceremony commences
Unfortunately you will not be unable to take photographs next to the statue on Saturday 14 March but it will be fully accessible the next day.
As this is an outdoor event, we recommend that you wear suitable outdoor clothing and footwear. There will be no access to public conveniences on the Square. The nearest public conveniences can be found opposite Westminster Abbey, for which there is a charge of 50p.
The nearest Underground Station is Westminster. We recommend that you check for any disruptions prior to traveling.
There are no food or drink concessions on the Square, nor is there access to water. Please ensure you bring sufficient supplies for the duration of the event.
Please note that the following items will not be permitted into the public viewing area:
Folding chairs, stools and tables
Shooting sticks
All glass articles
Metal cans
Weapons
Drugs
Flags, banners, poles and sticks
Luggage/Trolley cases
Animals (except Assistance Dogs)
Alcohol (carried in any container)
Laser pens
Bicycles, Scooters and Skateboards
Fireworks, Flares
Air horns, Loud Hailers
Any articles which may be a danger to the public or cause a nuisance
Camping in Parliament Square or the surrounding area prior to the event is strictly prohibited.
Watch Philip Jackson, #GandhiStatue sculptor discuss the inspiration behind the statue ahead of its unveiling
Watch Philip Jackson, #GandhiStatue sculptor discuss the inspiration behind the statue ahead of its unveiling
Published 11 March 2015