News story
Public Health England's Longer Lives website wins international design award
Project developed by Public Health England (PHE) and SapientNitro wins first place in its category at the Interaction Awards 2014.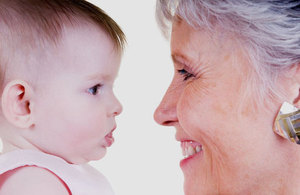 PHE's Longer Lives website triumphed at the international 2014 Interaction Awards over the weekend.
Longer Lives won first place in the 'disrupting' category for completely re-imagining an existing product or service by creating new behaviours, usages or markets.
The website was developed by PHE's Knowledge and Intelligence team (KIT) (East), led by Julian Flowers, in conjunction with SapientNitro, and with support from the South East and East Midlands KITs. Using existing data and a unique design it presents information about premature mortality across England in an accessible and engaging way.
Longer Lives was up against stiff global competition with projects from the Royal College of Art and Fisher-Price to name a few. The award draws international attention to a great collaborative project which creatively delivers information about local and national health inequalities.
Dr Julian Flowers, PHE's Knowledge and Intelligence (East) Director, said:
This is a great achievement and is acknowledgement of how our website will help deliver complex information about our health in an interactive format. This project is a great piece of work across teams to present data for the 4 biggest causes of premature mortality in England: cancer, heart disease and stroke, lung disease and liver disease.

We designed this website to support local authorities in identifying their priorities and to help guide their health and wellbeing strategies. Most importantly, voting was open to the public so we extend our thanks to those who recognised our efforts and of course a special mention to Daniel Flint, PHE's Longer Lives lead developer, who wrote the software for this extensive project.
Professor John Newton, Chief Knowledge Officer at PHE, said:
Longer Lives was a new initiative from Public Health England (PHE) which launched in June last year. It is a great honour to accept this award considering how many excellent projects were competing. The Longer Lives project came at a time of great change within the health and care system when we were keen to do something new and exciting to support local government in its new role as champion of the public's health.

The website presents a clear picture of health in local areas – where it is good and bad – so everyone involved can consider and agree how to make improvements from a common basis of knowledge. It connects people with the knowledge and resources they need to help the country work together towards better health.
Visit the Interaction Awards site to see the award entry.
Watch this Interaction Awards video announcing Longer Lives as the winner.
Published 11 February 2014