News story
Public Health England publishes global health strategy
PHE outlines its global health priorities for the next 5 years.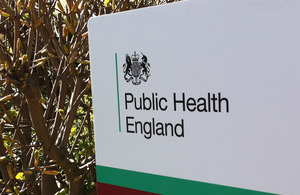 Public Health England (PHE) launched its global health strategy (2014 to 2019) at the annual conference (16 to 17 September 2014), outlining its global health priorities for the next 5 years, and providing a framework for international engagement.
Professor Anthony Kessel, director of international public health, said:
Our vision is that the PHE global health strategy will contribute to improving global health and reducing global health inequalities, while helping to protect and improve health in England. Developed through extensive stakeholder engagement the strategy provides a strong base to expand our efforts in this field through, for example, enhancing public health systems and capabilities internationally and supporting the development of strong national public health institutes.
The PHE global health strategic priorities for the next 5 years are:
improving global health security and meeting responsibilities under the International Health Regulations, focusing on: antimicrobial resistance, mass gatherings, extreme events, climate change, bioterrorism, emergency response, new and emerging infections, cross-border threats, and migrant and travel health
responding to outbreaks and incidents of international concern, and supporting the public health response to humanitarian disasters
building public health capacity, particularly in low and middle income countries, through, for example, a programme of staff secondments and global health initiatives
developing our focus on, and capacity for, engagement on international aspects of health and wellbeing, and non-communicable diseases (NCD)
strengthening UK partnerships for global health activity
Dr Brian McCloskey, director of global health at PHE, stated:
This year alone we have been on the frontline in responding to the Middle Eastern respiratory syndrome (MERS-CoV) outbreak and the ongoing Ebola outbreak, both of which have had a devastating impact on the countries involved. Whilst PHE has an impressive array of experts and expertise we also have to look outwards to other people and international organisations to best protect the British public.
This global health strategy underlines and reinforces PHE's commitment to playing a leading role in responding to international public health crises, and simultaneously, to protecting public health in England.
Over the next 5 years, PHE's global health work will include:
providing coordination, support and leadership to the global health security agenda, and supporting others in developing capacity relating to the International Health Regulations 2005 (for example in our overseas territories)
developing a robust system to enable rapid and appropriate responses to outbreaks and incidents of international concern and humanitarian disasters, ensuring compliance with internationally agreed guidelines
assisting public health capacity building in priority countries
expanding our portfolio of global health engagement on NCDs
strengthening our global health partnerships both nationally and internationally
The global health strategy will be delivered through the development of an annual delivery plan, covering global health work across the breadth of PHE. The PHE global health committee, established by the PHE Board, will provide oversight and scrutiny of PHE's strategic direction.
Read the global health strategy 2014 to 2019.
PHE exists to protect and improve the nation's health and wellbeing and reduce health inequalities. It does this through advocacy, partnerships, world-class science, knowledge and intelligence, and the delivery of specialist public health services. PHE is an operationally autonomous executive agency of the Department of Health.
www.gov.uk/phe Follow us on Twitter @PHE_uk
Published 17 September 2014