News story
Public consultation to begin on lifting of planning curbs around London to Kent high speed rail link
Consultation on proposals to reduce planning restrictions along the HS1 route starts 10 July 2017.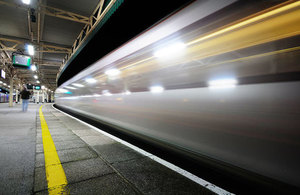 A public consultation opens on Monday 10 July 2017 on proposals to reduce planning restrictions along the high speed rail route, known as HS1, between London St Pancras and the Channel Tunnel.
As a long-term infrastructure project, HS1 is protected under planning regulations which restrict development alongside or close to it. Known as 'safeguarding', the regulations do not prevent development taking place near large-scale schemes like HS1, but do ensure that they allow access to, and protection of, the infrastructure itself.
During construction and early operation of HS1, it was essential to safeguard large parts of the network to ensure that the rail line could be completed and run successfully.
But since the route opened in 2007, the need to maintain all the original planning controls close to it has gradually reduced.
The public consultation will last for 4 weeks until 13 August 2017. Among the proposals under consultation are:
reducing the safeguarding boundary next to the route from 60 metres to 30 metres
removing 53% of the existing land (equivalent to 14 square km) next to HS1 from safeguarding restrictions
retaining safeguarding restrictions for all tunnels along the route
Rail Minister Paul Maynard said:
HS1 has been a success story for 10 years now, providing a high speed link between London and stations in continental Europe. These proposed changes will have no effect on the high speed service for passengers. They will simply reduce the restrictions on developments close to it.
The final report is expected to be produced within 3 months of the closing date for public consultation.
Rail media enquiries
Media enquiries 020 7944 3021
Out of hours media enquiries 020 7944 4292
Switchboard 0300 330 3000
Published 6 July 2017