Public consultation: Passported Benefits under Universal Credit – review and advice
The Social Security Advisory Committee has been asked to undertake an independent review of Passported benefits.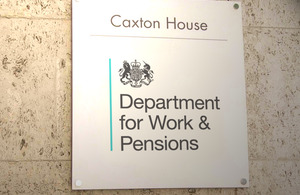 The Social Security Advisory Committee (SSAC) has been asked by the Minister for Welfare Reform to undertake an independent review of Passported Benefits and provide advice on possible approaches to the provision of Passported Benefits under Universal Credit. Footnote: 1 The review will consider a number of key issues, including complexity, cost and work incentives.
As part of the review the Committee would like to hear from individuals, organisations and other bodies with views on Passported Benefits under Universal Credit. The consultation period begins on 16 June and ends on 22 July 2011.
Those wishing to make representations to the Committee should consider the key consultation questions, available from the SSAC website: ssac.independent.gov.uk, or from the Secretary to the Committee, Gill Saunders (0207 962 8345). Representations should be sent to the Committee at NE Spur, Level 3, Adelphi Building, 1-11 John Adam Street, London WC2N 6HT, or by email to ssac@dwp.gsi.gov.uk, to arrive no later than 22 July 2011.
Note for Editors:
SSAC
The SSAC is the UK's statutory advisory body on social security and related matters, such as links with the labour market and wider social welfare issues. The Committee provides advice to the Secretary of State for Work and Pensions - and to the Department for Social Development in Northern Ireland - on their functions generally. It also plays a unique role in the secondary legislation process, performing a mandatory scrutiny of most proposals for making the regulations that underpin the social welfare system that is the responsibility of the DWP.
The Committee is independent of both Government and sectional interests. Members come from a variety of backgrounds, but collectively they have a considerable depth of knowledge of, and expertise in, both the specifics of policy and law and the wider social policy agenda.
Universal Credit
Universal Credit is a fundamental reform of the benefits system. It will create a single income replacement benefit for working age adults which unifies the current system of means-tested out of work benefits, tax credits and support for housing. Detailed implementation plans are being developed and the first new claims to Universal Credit are expected to begin from October 2013. The transition to the new system will take around five years to complete.
Universal Credit will improve work incentives by allowing individuals to keep more of their income as they move into work and by introducing a smoother and more transparent reduction of benefits when they increase their earnings.
Passported Benefits
Currently, individuals of working age may be entitled to a number of 'passported benefits' when they are in receipt of out of work means-tested benefits or tax credits. A large number of passported benefits are available, administered by a wide range of organisations, including government departments, the devolved administrations, local authorities, and other bodies both within and outside of government, including commercial organisations. Passported benefits can be differentiated into: benefits in kind such as free school meals, free milk, fruit and vegetables, and vitamins, free prescriptions; cash benefits such as support for travel costs to hospitals or prisons; and discounts on charges or fees such as leisure discounts.
Government departments and the devolved administrations are responsible for defining entitlement to some of the passported benefits available. When Universal Credit is introduced it will provide a new single system of means-tested support for working-age people in and out of work. As a result, the current criteria for defining eligibility to various passported benefits will no longer exist.
Footnote
By Passported Benefits we mean those benefits to which working-age claimants of certain means-tested benefits are automatically entitled. For example, free school meals, free prescriptions, free dental treatment, etc. We will consider the range of Passported Benefits available to working-age claimants but the recommendations will focus on the main Passported Benefits. We are particularly interested in receiving views about benefits in kind but welcome responses relating to cash benefits and discounts as well.
Published 21 June 2011