Protection for flights and road transport after Brexit reaffirmed
Passengers and hauliers to continue to travel and trade with confidence as UK-EU transport protected after Brexit.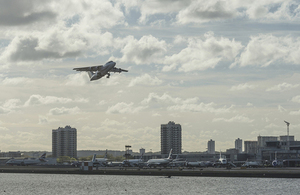 UK and EU propose extension to air and road measures for Brexit, meaning consumers and hauliers should continue to book, travel and trade with confidence
extension of air traffic rights provides certainty to the airline industry and wider business
EU to extend road transport regulations giving boost to haulage industry
Today (5 September 2019), the government can confirm details of measures that ensure flights and road haulage will continue to run smoothly after the UK leaves the EU on 31 October, whatever the circumstances.
Secretary of State for Transport Grant Shapps also revealed that the Department for Transport (DfT) will extend the UK's air traffic rights for EU airlines until October 2020. The extension builds on arrangements announced in March this year, which ensured that air services between the UK and the EU could continue to operate as usual until March 2020, regardless of whether a new Brexit deal is agreed.
The move comes as the EU finalises its post 31 October aviation regulation that will continue to protect UK airlines flying into Europe. Both the UK and the EU's actions will ensure continued confidence for passengers across the continent as they travel on their holidays or conduct business in the year ahead.
Grant Shapps, Secretary of State, said:
We welcome these proposals from the European Commission to extend arrangements allowing flights and road haulage to continue between the UK and EU after Brexit.

Connectivity is at the forefront of this government's vision for a global, outward-facing Britain and these extensions between the UK and EU ensure that it will be business as usual when travelling and trading for the foreseeable future.
Well over 160 million passengers travel by air between the UK and the EU each year. Air travel is vital to both the UK and the EU and therefore there is a mutual interest in maintaining well-functioning aviation markets.
Liberal, reciprocal market access is in the best interests of the UK and EU countries, and the government will move swiftly to propose the negotiation of a long-term arrangement on this basis.
In addition to flight services, the European Commission has proposed extending the regulation ensuring basic road freight and road passenger connectivity between the UK and the EU until 31 July 2020.
These proposals follow similar commitments already made by the UK government to ensure any potential disruption for hauliers is kept to a minimum after 31 October.
Aviation, Europe and technology media enquiries
Media enquiries 020 7944 3021
Out of hours media enquiries 020 7944 4292
Switchboard 0300 330 3000
Published 5 September 2019