Press release
Proposals for register of lobbyists
Mark Harper, Minister for Political and Constitutional Reform, launched a 12-week consultation on current proposals for a statutory register of lobbyists.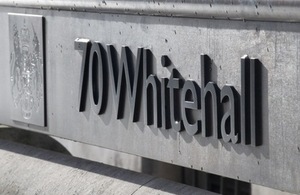 Mark Harper, the Minister for Political and Constitutional Reform, launched a twelve week consultation on the Government's proposals, inviting views from the public and industry on how the register should work.
The consultation seeks views on a number of issues, including:
the definition of a lobbyist
who should be required to register
what information should be collected about them and the companies on behalf of which they lobby
how the register should be funded
Mark Harper said:
Lobbying has an important role in the policy making process, ensuring that Ministers and senior officials hear a full range of views from those who will be affected by Government decisions.  But it must be conducted in a transparent and open way.

We already publish an unprecedented amount of information about who Ministers and senior officials meet.

However, it's not always possible to understand the significance of these meetings, because it's not always obvious who the people ministers and officials meet represent.

That's why the Government wants a register that will bring more transparency to the lobbying process. and we would welcome the views of the public and the lobbying industry on this consultation document.
The proposals for consultation include:
The definition of lobbying and lobbyists and who should register:
lobbyists should be defined as 'those who seek to influence or change government policy on behalf of a third party'
This is similar to the definition used in the Australian Lobbying Code of Conduct
anyone who seeks to influence central government or Parliament on behalf of a third party should register. This would include lobbying companies and individuals who lobby government and MPs on behalf of other people
What information should be provided in the register:
the name of the individual lobbyist, as defined above, and whether they are a former Minister or Senior Civil Servant
the proposal does not include detailed financial information, as this could provide too great an administrative burden
the Government is seeking views on whether it would be useful to give an idea of how much each client pays, without affecting commercial confidentiality.
How the register could be administered, and if sanctions should be in place:
in line with the transparency data published for Ministers, special advisers and senior officials, the register should be updated quarterly
funding could come from companies and individuals who register in the form of an annual subscription. Similar models exist, such as the register of dental professionals kept by the General Dental Council
The Government hopes that the lobbying industry will embrace steps to make it more transparent, making the process largely self-regulating
however, penalties could be enforced for non-compliance. This could work in the same way as failure to file company accounts in the Companies Act 2006
in order to build and maintain public trust in the register, the Government believes it should be managed and enforced by a body independent of Government and the industry. Views are sought on what form this body might take: it may be a new organisation created expressly to manage the register, or it could be handled by an existing organisation
The consultation opens today and closes on 20 April 2012.
Any interested party, including the general public, can send their views to: Statutory Register of Lobbyists, Cabinet Office, Fourth Floor, 1 Horseguards Road, London SW1A 2HQ.
Published 20 January 2012