Promoting UK interests in Tunisia
Head of the British Diplomatic Service Simon Fraser visits Tunisia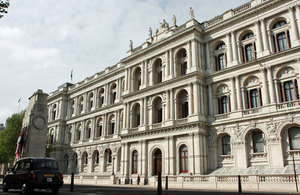 Simon Fraser, the Head of the British Diplomatic Service and Permanent Under-Secretary in the Foreign and Commonwealth Office, visited Tunis on 4-5 October 2010.
Mr Fraser is the most senior foreign policy official in the UK Government. While in Tunis, Mr Fraser met senior members of the Tunisian government to develop further the UK-Tunisia bilateral relationship and to discuss commercial and investment opportunities in sectors such as energy, English language teaching, financial services and tourism.
Mr Fraser also met key contacts in the private sector, British investors, tour operators, the British community and journalists.
For more information about Simon Fraser, please read his profile on FCO website.
Search the news archive
Published 5 October 2010