World news story
Promoting British values in Kazakhstan
British Embassy Kazakhstan builds people-to-people links, promoting the 20th Anniversary of the British Council in Kazakhstan and building on the visit of the Prime Minister to Kazakhstan in 2013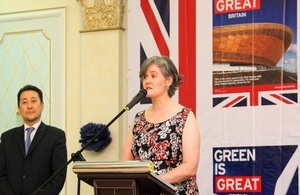 In June this year the British Embassy will hold Queen's Birthday Party celebrations in Astana and Almaty. The Queen's Birthday is the UK's National Day. It is a day when we celebrate everything that makes Britain a GREAT place to live, work, study and do business. This year we will mark the 20th Anniversary of the British Council in Kazakhstan and a year since the visit of Prime Minister David Cameron.
The Prime Minister's visit to Kazakhstan last year highlighted a new milestone in the UK-Kazakhstan strategic relationship.
The British Council has been working in Kazakhstan since 1994 and is an integral and important part of the UK's bilateral relationship. It focuses on developing English language skills, providing internationally recognised examinations, increasing the capacity of vocational and higher education institutions, and contributing to UK and Kazakhstani partnerships and collaboration in the arts.
The Queen's Birthday Party this year will also feature a Green theme in view of EXPO 2017, and the ongoing GREAT campaign.
The British Embassy Astana would like to thank our sponsors for the Queen's Birthday Party: Air Astana, BG Group, Caspian Motors, Ernst & Young, HSBC, KPMG, Lloyd's Register, Pernod Ricard, Rio Tinto, and Shell.
Published 15 May 2014