News story
Project Bank Accounts are helping to pay government suppliers on time
Three years on, the government is meeting Government Construction Strategy targets on paying firms and on the construction pipeline.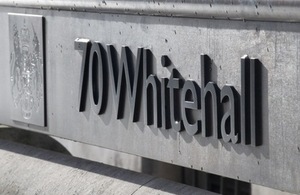 Francis Maude, Minister for the Cabinet Office, announced that £5.2 billion worth of government projects in the construction industry are now being paid through Project Bank Accounts (PBAs).
As part of its long term economic plan for Britain, the government will do more to ensure prompt payment in government contracts. PBAs are a world leading initiative to ensure firms working on a government construction project are paid on time, wherever they are in the supply chain.
The 2011 Government Construction Strategy set a target for £4 billion of contracts to be awarded that use PBAs by the end of 2013 to 2014. The government has exceeded this target: the total awarded is now £5.2 billion.
How Project Bank Accounts work
In the construction industry, it is common for smaller contractors to have to wait lengthy periods to be paid for work that they've already completed. A PBA is a ring-fenced bank account from which payments are made directly and simultaneously to a lead contractor and members of the supply chain. Through faster payments, those lower down the supply chain benefit from that cash-flow.
John. M. Stevens, Director, Dodd Group said:
Without doubt this has to be the way forward for our industry if the current payment culture is to be eradicated. PBAs help eliminate the excuses for late or reduced payment, the burdens on overhead costs and the programme delays as a result of disputes and resultant insolvencies, which often result in SMEs being hardest hit.
Pipeline of government construction opportunities
Government statistics published today show that the 'pipeline' of future government construction opportunities has risen in value by £13 billion to £116 billion in July 2014.
The £13 billion increase is calculated by reviewing differences between the December 2013 pipeline (which shows spend from 2013 to 2014 onwards) and the July 2014 pipeline (which shows spend from 2014 to 2015 onwards.) The value of the December 2013 pipeline is £103 billion, a £13 billion increase in the pipeline. The values quoted in both pipelines are nominal except for the rolling stock element of High Speed 2 spend, which has been indexed at 2011 to 2012 prices.
This shows the government's continued commitment to the sector. Businesses can use this information to plan more effectively, based on what government proposes to build, construct or renovate in the coming years. The government is now adding opportunities to the pipeline for up to 2020 and beyond.
Speaking before the 2 July 2014 Government Construction Summit, Minister for the Cabinet Office Francis Maude said:
As part of our long-term economic plan this government is reforming public sector construction and helping develop a more efficient and competitive industry that will lead to more jobs and better value for taxpayers.

To win the global race, we must support the smaller suppliers which are the lifeblood of our economy. We've beaten our target on Project Bank Accounts but we will keep pushing ahead to ensure suppliers of all sizes are treated fairly.
Published 2 July 2014